BRINGING A MOVIE WATCH TO LIFE
Screenwriter, producer, director. Before a movie gets anywhere near being made, there is an extensive creative process, and these are some of the key players involved from the beginning. If you add 'watchmaker' or, more specifically, Hamilton to the list then you have the full creative cast that helps get a movie off the ground.
Starting with the story, the screenwriter develops a script, the producer brings essential funding and the director begins to shape their vision.
And Hamilton? Whether our challenge is to help create an authentic character or to advance the plot, we work based on the input from the pre-production players and bring our craftsmanship into the game.
Getting creative always involves coming to every project with an open mind. At Hamilton, we start every movie briefing with a blank sheet of paper and start to sketch out ideas as we learn more about the plot and the characters.
For Pearl Harbor, our challenge was to provide historically accurate watches from 1941 that would have been worn by soldiers of different ranks. Captains Rafe McCawley and Danny Walker were issued the Khaki Field Mechanical, just like their real-life brothers in arms would have worn.
Even on their debut in the original 1997 movie, the Men in Black agents lived in a future where aliens walk among us. They also had a minimal but iconic uniform that has since become a legendary movie costume. Iconic, distinctive, futuristic. The Ventura matched the characters, offered them perfect timing as well as a watch as unusual and unconventional as the world they live in.
In Independence Day: Resurgence, Liam Hemsworth's pilot Jake Morrison is facing the end of the world. He is fearless, determined and highly skilled. As a pilot, his ability to calculate quickly is what keeps him alive. The Khaki X-Wind Auto Chrono helps him evade alien clutches and complete his essential missions as well as being an authentic pilot's choice.
Our creativity is put to the test even more when it comes to custom and concept watches. The famous watch from Stanley Kubrick's 1968 epic 2001: A Space Odyssey is packed with futuristic features. The concept watch fits the otherworldly, dreamlike look and feel of a movie that brought sci-fi to the mainstream. It is truly a piece of movie and watchmaking history.
Interstellar, which came to the big screen almost 50 years after the pioneering 2001: A Space Odyssey, has a plot device that required a real watch. It links Cooper and his daughter, Murph, through time and space and is the one thing that connects them even when they're apart. It symbolizes their love and unbreakable family bond as well as being able to receive the Morse code message that will save humanity. The concept watch was based on a Khaki Field model. In 2019, we created the Khaki Field Murph to the delight of Interstellar fans keen to own their own piece of movie history. Check out the new model here.
Automatic watches, chronographs, aviation watches, ladies' watches, men's watches, adventure watches, soldier's watches, diver watches. They all have a place in our collection, all unite American spirit and Swiss precision, and all are a result of our own Hamilton creative process.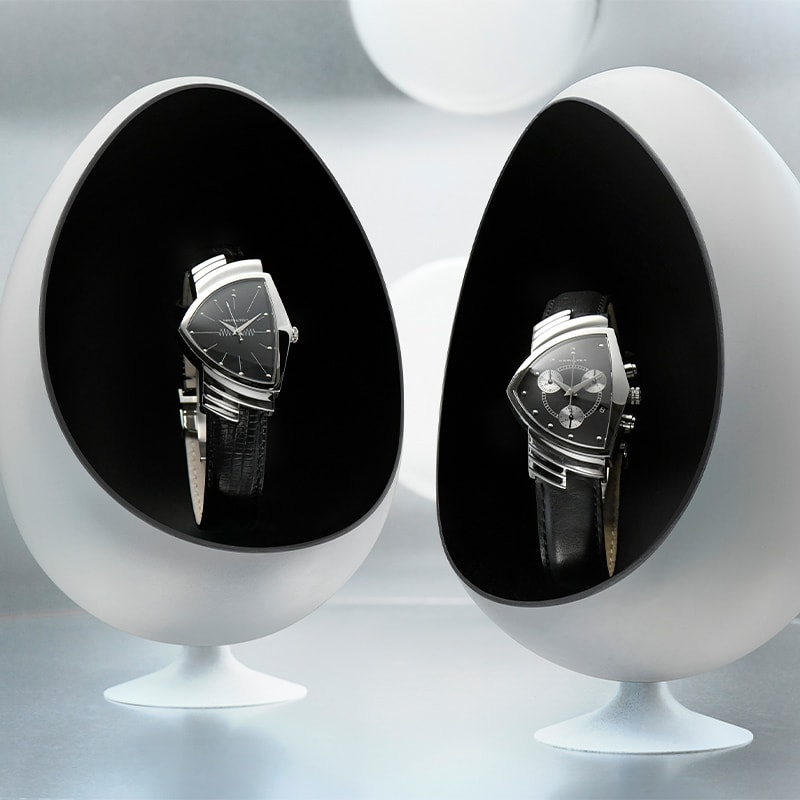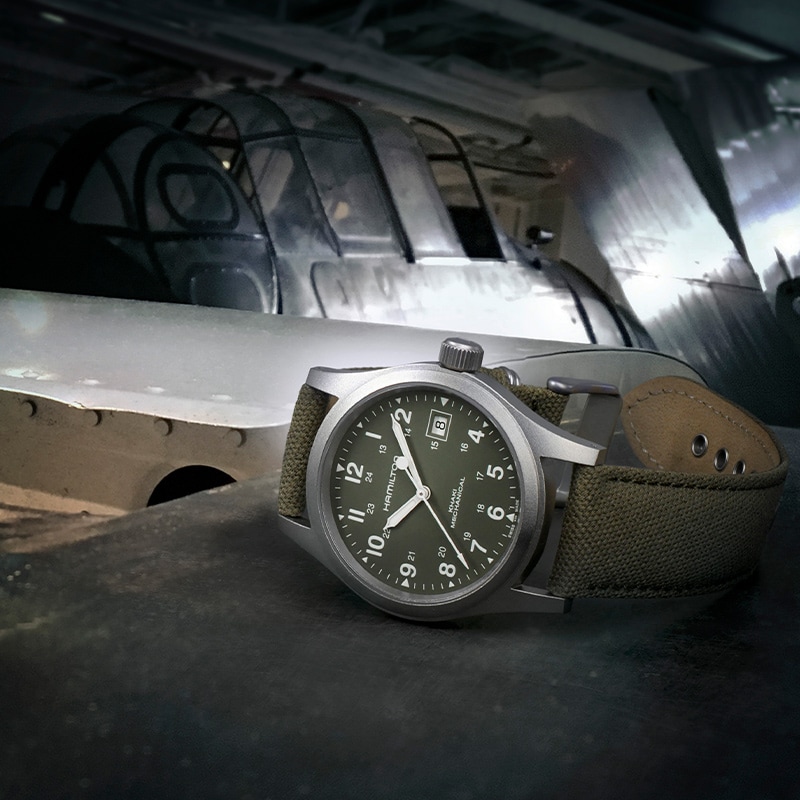 When it comes to creating movie watches, we become a part of someone else's creative process to help them bring their authentic characters and compelling plots to life. Our ability to match them creatively step for step and deliver what they need has kept Hamilton at the heart of cinema – and a part of more than 500 major movie highlights – since 1932.
---