The World's First Electric Watch Is Back in 14k Solid Gold
The Iconic Ventura Returns With 130 Pieces To Honor Hamilton's 13 Decades Of Time-keeping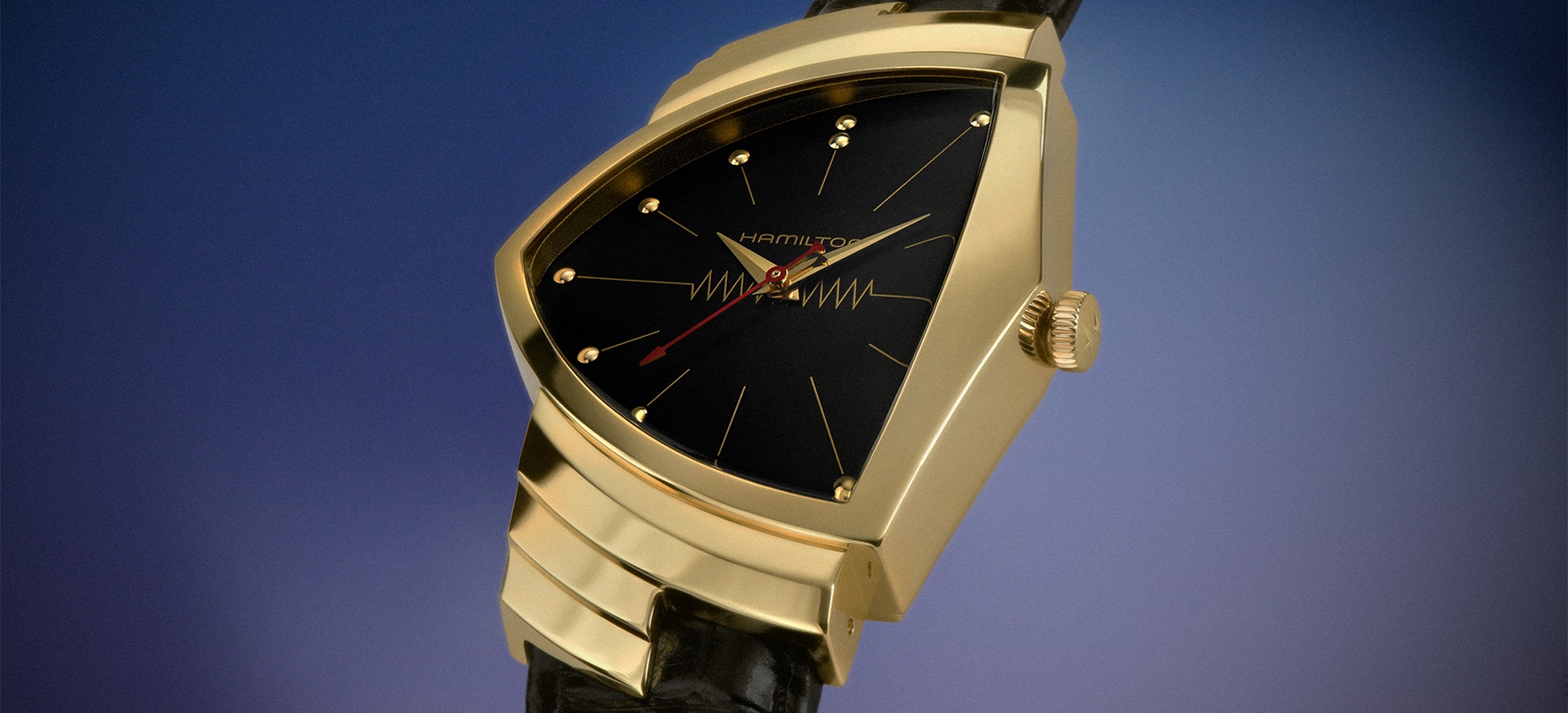 Admired for its significance as the world's first electric watch, the emblematic Hamilton Ventura is also highly appreciated for its bold, instantly recognisable geometric shape that challenged the norm in terms of watch designs in the 1950s.
Breaking conventional watch aesthetics, the iconic timepiece, with its notable triangular case and electric movement, propelled further into popularity after Elvis wore one in his appearance in the 1961 movie "Blue Hawaii".
It was a momentum technological advancement in watchmaking, where an electromagnetic coil powered movement for the very first time. The eccentric model, inspired by American designer Richard Arbib was pivotal in the design and horology industry, mirroring the rebellious counter-culture that took off in 50s America.
As a new addition to the Ventura family, we are introducing a remarkable, limited edition iteration of 130 pieces in solid, 14k gold. Based on the original iconic timepiece, the new model is a true collectable, and a reminder of the forward-thinking, avant-garde depictions we portray in both watch features and designs. Technically innovative at its core, the special edition timepiece carries the legacy of the world's first electric watch, whilst still illustrating our enduring authenticity and heritage.
The new cutting-edge appearance of the Ventura L pairs a subtle black dial with stunning yellow gold-colored hour minute hands and indices, whilst reliable quartz movement powers the piece for accurate time-keeping you can count on. Measuring a case size of 33.11mm by 9.38mm and featuring high-end touches like anti-reflective sapphire crystal and 50m of water resistance, this really is a stand-out model that will be hard to resist. To finish the overall look, a classic black leather strap works elegantly against a yellow PVD butterfly clasp, and the case back features a special engraving of the Hamilton's crest.
With a powerful driving force behind it, like the original Ventura, based on ground-breaking advancements in technology, the new 14k solid gold adaptation is poised to continue our high-tech journey in pioneering, transformative designs.
Let's take a look at the limited edition Ventura!
---