WATCH SPOTTING: HAMILTON'S STANDOUT
ON SCREEN APPEARANCES
Who can spot the Hamilton watch? Appearing in over 500 movies and TV shows, Hamilton watches have traveled to outer space, saved humanity and kept time on-screen since 1932.
Pop some popcorn and join our movie marathon!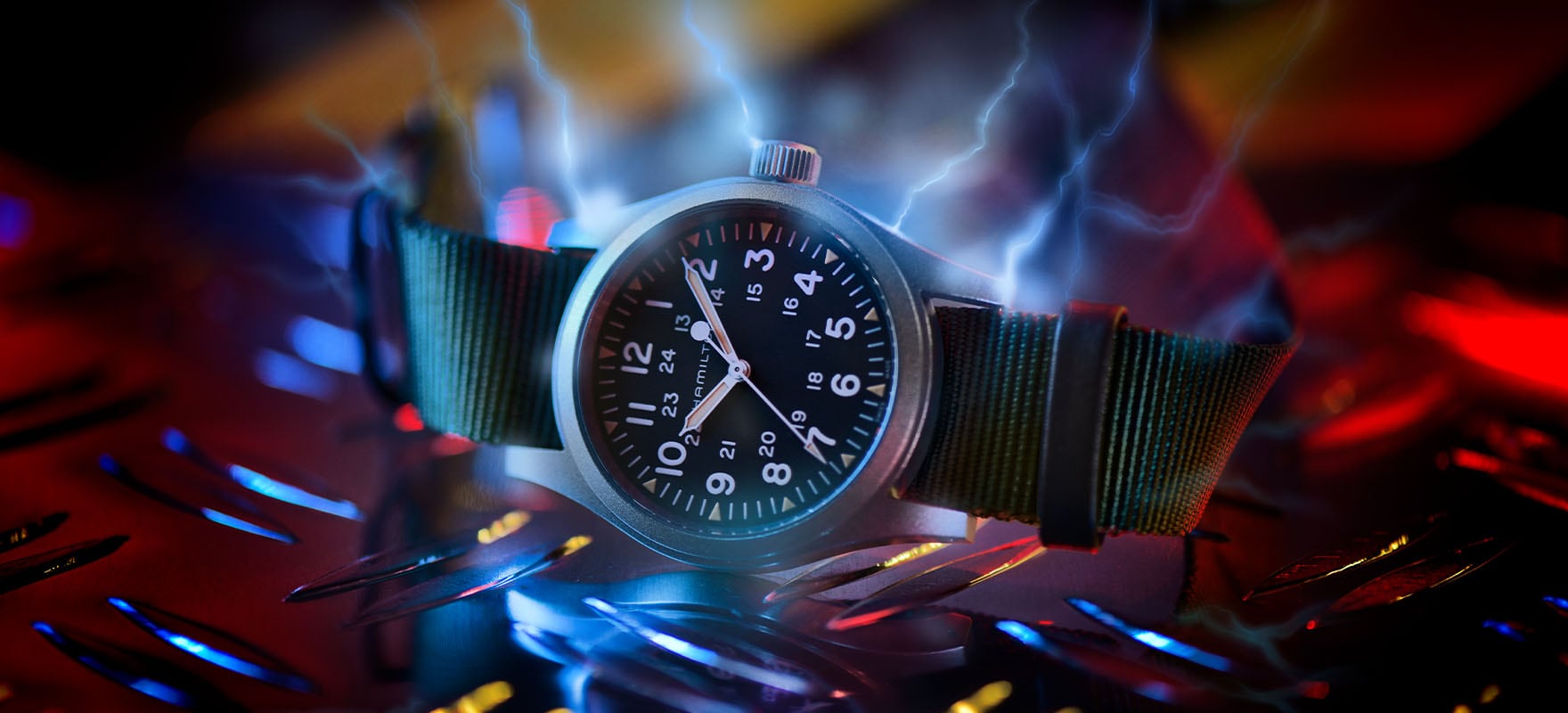 Hamilton has recognized the connection between watchmaking and storytelling since our first appearance in the classic film "Shanghai Express" and we remain at the heart of cinema today.
Let's take a look at some of the films and shows we've co-starred in during the last few years!

Latest Hits
Even during lockdown, Hamilton made it to the silver screen in Christopher Nolan's latest blockbuster "TENET." The time-bending thriller features a custom-made Hamilton timepiece that helps The Protagonist save the world. Channel your inner hero with our Khaki Navy BeLOWZERO Titanium Auto, which served as the base for the essential prop watch.
Villains might be bad but they can still have style, a fact proven by the embezzling school superintendent Frank Tassone, played by Hugh Jackman, in HBO's "Bad Education." Spot him wearing our classic two-tone Valiant Auto in this based-on-a-true-story crime drama.

Binge-Worthy
Looking for a weekend of TV that's worth your time? Follow along as Chuck Rhoades, Jr., Attorney General of New York, prosecutes billionaires charged with insider trading and bribery in Showtime's critically acclaimed series "Billions." Played by Paul Giamatti, the ruthless lawyer relies on our Jazzmaster Viewmatic Auto throughout all five seasons.
For action in the streets instead of the courtroom, choose Amazon Prime Video's two-season series, "Tom Clancy's Jack Ryan." In this fast-paced political thriller, CIA analyst Jack Ryan, played by John Krasinski, uncovers conspiracies and prevent terrorist plots. Our built-for-action Khaki Field Auto Chrono in a stealthy all-black style is the perfect choice to time Jack's adventures. Can you spot the other Hamilton in this binge-worthy spy drama? We'll give you a hint – it's our Khaki Aviation X-Wind Auto Chrono.

Science (Fiction) & (Super) Heroes
In the movies, Hamilton watches have traveled through wormholes, met aliens and played super hero sidekick. Whether you prefer explainable science fiction or comedic fantasy, we've got watch spotting options just for you. The love between a father and his daughter transcends space and time via our custom-made Khaki Field Murph in the award-winning blockbuster "Interstellar."
The Ventura's standout style fits right in as part of the official uniform of the alien-fighting "Men in Black" in each of the franchises' sci-fi, action-comedy hits. Even trapped superheroes need a sidekick, including Mark Warren, played by Michael B. Jordan, who wears our Khaki Aviation X-Wind Auto Chrono in Netflix's "Raising Dion."
And, what about superhero sidekicks? We enter Gotham City on the wrist of rookie GCPD officer John Blake, played by Joseph Gordon Levitt, in the finale of Christopher Nolan's Batman trilogy, "The Dark Knight Rises."
Just for Fun
Con artist Debbie Ocean, played by Sandra Bullock, leads a sophisticated heist down to the last second with our Jazzmaster Day Date Auto, in "Ocean's Eight," a comedic film sure to make you laugh.
When the world's speediest hedgehog enters the real world he's looking for a friend. He finds one in Tom Wachowski, played by James Marsden, who wears our Khaki Field Mechanical in the live-action adventure comedy "Sonic the Hedgehog."
Now that you know what to look for, it's time to plan a Hamilton-themed movie night of your own! What's your favorite Hamilton in Hollywood?
---