TIMING IS EVERYTHING IN FREE DIVING
In preparation for competition season, we headed out to the Bahamas to join our four-time world-record holding freediving ambassador Pierre Frolla for a spectacular training session. With the Khaki Navy Frogman on his wrist, Pierre is confident and safe in the ocean he calls home. He took some time out to give us a unique insight into his underwater world.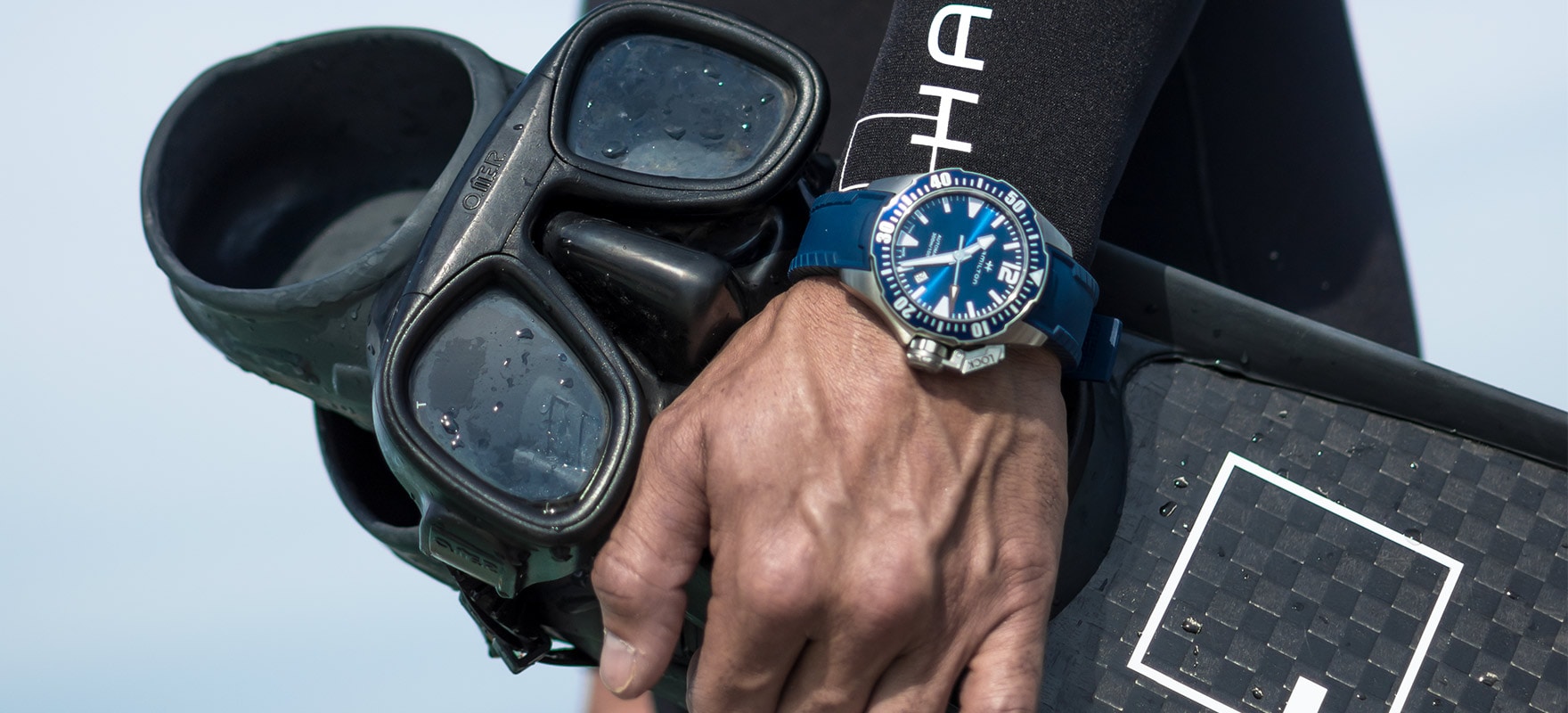 Pierre, thanks so much for catching up with us. Why did you choose the Bahamas for this training session?
It's the perfect place to practice. The water is always very warm and clear, and the sea is full of all kinds of fish. There isn't much of a current, and there are some superb sheltered diving sites. The weather is usually cooperative, but it was a bit changeable this time around. We're used to it. Training in a natural environment means that it's all up to nature.
How important is time under water or during your preparation?
Time is crucial in free diving. It determines everything. It dictates our "rest periods" on the surface between dives, as well as the "official top" signaling our underwater departure. It also determines the moment we resurface. By definition, a free dive is time spent underwater without breathing. So, it's impossible to free dive without a watch.
Why did you choose the Khaki Navy?
I chose the Khaki Navy watch because it provides exactly what I need: it is designed for underwater use and meets the demands of my longest and deepest dives. It offers instant readability. Underwater, I have less than a second to look at my watch and make decisions. So, in less than a second, I need to know how long I've been underwater. Not only is the watchband very comfortable, it's extremely durable. I know there is no risk of losing or damaging it.
Although it has a large diameter, the Khaki Navy watch is extremely light; I hardly feel it on my wrist at all. It literally becomes a part of me, enabling me to easily slip into the chasms. Ultimately, I chose this watch because it's simple, resistant, functional, and attractive. Like the universe I dive into each day: the sea.
What's your typical training program?
I train every day, for two or three hours a day. But when I'm at sea, eight hours a day is typical. My day always begins with a 30-minute yoga session. Then I swim for an hour, or 3 km, and I run for an hour and a half, or 15 km. Physically, free divers have to be very strong. It is especially important to be aerobically fit. It helps me keep in shape and maintain my performance all year long.
Do you have any diver tips to share with us?
First off, never dive alone. It is important that you always have a partner, so that you can help each other in difficult situations. Another piece of advice is to stay well hydrated, because even though our bodies are constantly surrounded by water, our skin dehydrates very quickly. Wearing a dive watch is also an absolute necessity. Being underwater is an escape: the notion of time is therefore difficult to perceive. Without a dive watch, I would never have been able to achieve the performance I've enjoyed. Such a watch is a diver's best ally. Finally, it is crucial that you respect nature.
Do you have a favorite diving destination?
All of the world's oceans offer magnificent diving sites. I particularly like diving in Cuba with the crocodiles, in Polynesia with the whales, on the island of Dominica with the sperm whales, and in South Africa with the sharks.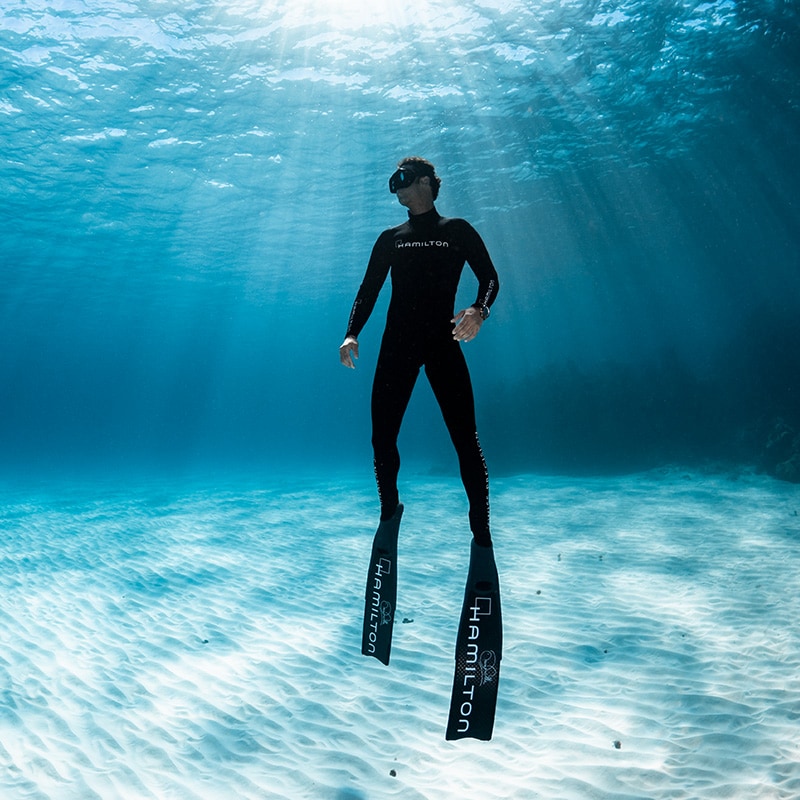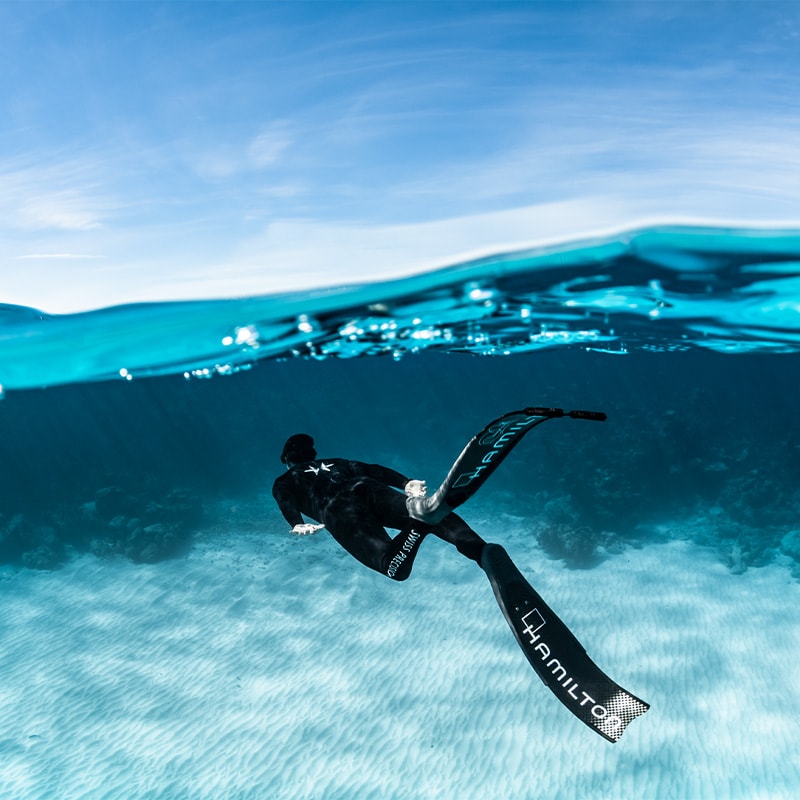 And with that, there he goes, back into the ocean - our very own Frogman.
---