A WRISTWATCH IS THE PERFECT COMPANION FOR YOUR ROADTRIP
Pair practicality with style on your trip this summer with a reliable timepiece for accurate time tracking when driving the distance.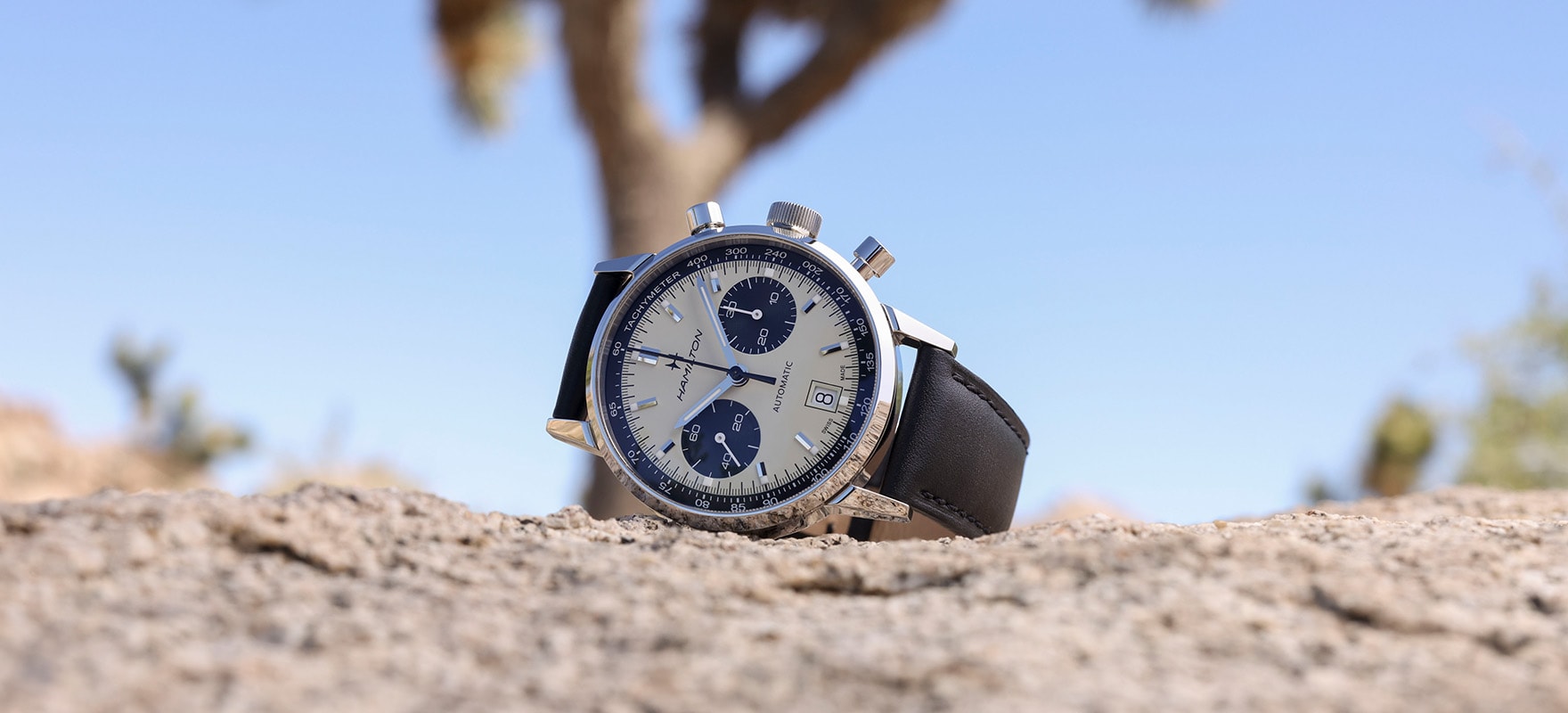 Classic road trips renowned for freedom and flexibility, remain a sought after choice amongst travel seekers this time of year.
Whether you vibe a van or enjoy cruising in a car, a dependable watch should always be part of your summer roadtrip checklist. We bring Swiss accuracy to the track, with an array of watch models that promise to keep you on time as you wind round beaten paths and the natural wonders of the world.
Whilst uncertainty may lie in your route and destination, you can take comfort in the fact that a wristwatch will be consistent and unequivocal, allowing for exact precision when measuring time. Every adventurer needs the right model to accompany them on their travels but choosing a trustworthy timepiece to travel with doesn't need to be difficult.
The upgraded original soldier's watch will coincide with Hamilton's first-ever bronze case that will encounter a unique story through individual patina development based on environmental exposure. Perfect for nature enthusiasts willing to stop off for a hike in the hills and revel in nature!
Another field watch inspired by our military heritage features a black PVD-coated case, black dial and black leather strap for a mysterious aesthetic that boasts long-lasting protection against scratches due to highly durable PVD coating. Ideal for everyday wearers that lust for activity once the wheels stop!
The sporty yet classic appeal is a modernized enhancement of a 1968 piece. The authentic 60s appeal remains intact through exclusive H-31 automatic movement and 60 hour power reserve. The optimal timepiece for those who desire a stand-out showstopper that will suit both driving and fine dining.
The high-performance combat-chic aesthetic will fly through cross-winds in striking new looks, available with camouflage patterns and new color variants. Paramount features encompass an inner rotating bezel and an anti-magnetic Silicon hairspring. A heavenly match for those with aviation admiration and an adventure packed itinerary!
Inspired by popular summer driving vacations, we've highlighted adventure-proof watch models to suit your on-the-road style. Let's drive into the perfect watches to wear when behind the wheel!
---