THIS BRONZE WATCH'S STORY HAS JUST BEGUN
Introducing our new Khaki Field Mechanical Bronze – a heritage design with a future to create, one experience at a time.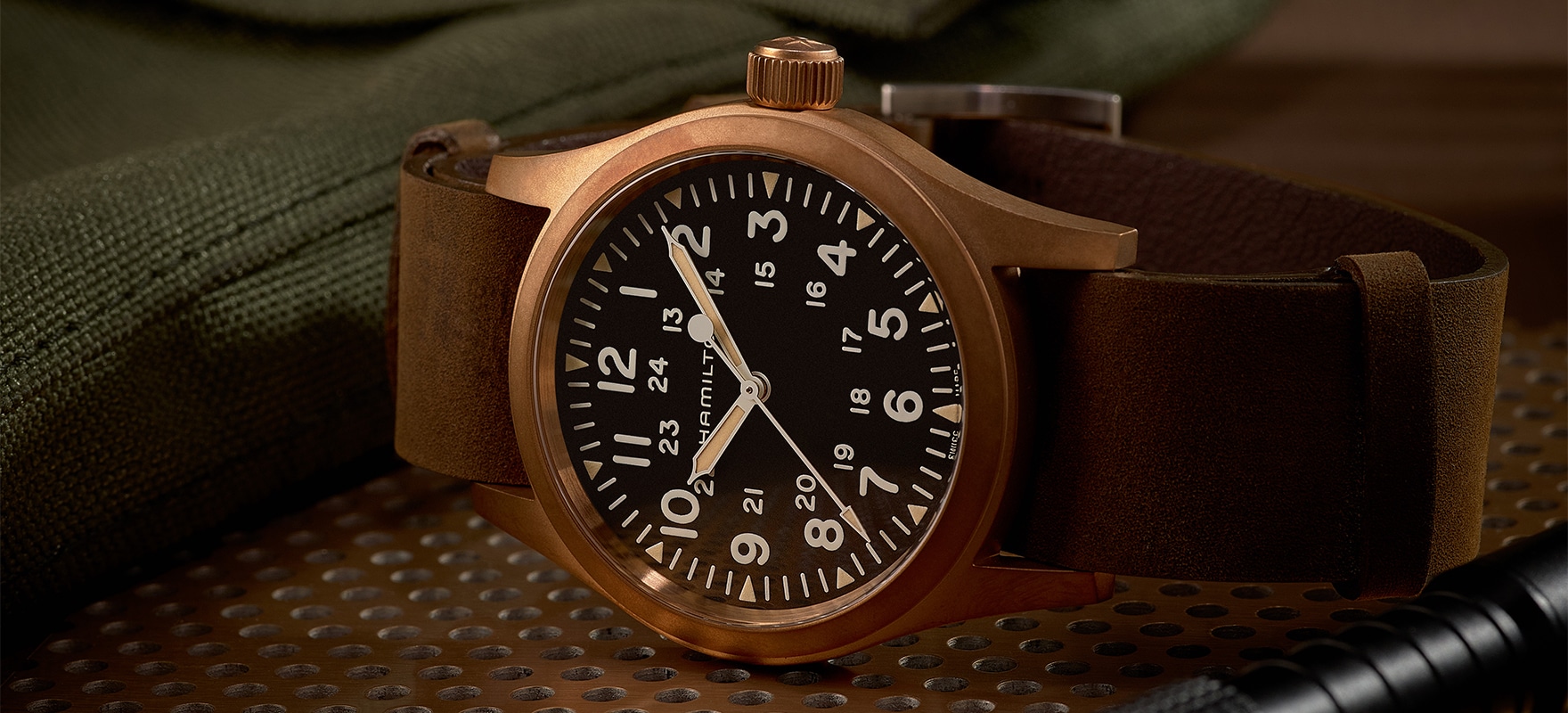 With rugged military-inspired style, our handwinding Khaki Field Mechanical is an iconic Hamilton timepiece and a firm favorite of wristwatch collectors and enthusiasts around the world.
Now, it's time to add your own story to this authentic mechanical field watch that's perfect as both a companion and memento for all of life's adventures.

Go for the bronze
Faithful to the spirit and style of the thousands of watches we made for U.S., British and other military forces during the 20th century, our newest Khaki Field Mechanical stands out from the crowd with a stunning bronze case. Paired with a rugged black color dial, ultra-legible luminescent 24-hour markings, bronze-tone hands and a high-grade leather strap, the case metal's deep, sunset tones give our practical field watch a dash of serendipitous charm.
Slim and lightweight thanks to the lack of a winding rotor, our exclusive, hand-wound H-50 movement powers the 38mm field watch with military precision behind a titanium case back.

Discover your patina

The material of military decorations, competition medals and historical statues, bronze celebrates previous achievements without staying in the past. This is because oxidation – exposure to oxygen in the water or air – causes the metal alloy to develop a textured patina over time.
Reliant on environmental exposure to transform, the evolution of each Khaki Field Mechanical Bronze case will be a unique record of your story.
Truly, a living metal, bronze carries our watchmaking heritage forward, while inspiring a new chapter of its own.
Are you ready to discover your patina?
---