ADVENTURE AWAITS
To all expert adventurers, watch enthusiasts and happy new owners of a Hamilton watch, we invite you to follow us on a thrilling journey of exploration, where every moment is an experience!
We celebrate the everyday heroes, those who dare to explore the unknown and find joy in going beyond their limits. We provide these pioneering heroes with capable watches to time their achievements and remind them of moments that they can cherish forever.

Are you ready to take up the challenge with Hamilton?
Ready, set, go! We embark on adventures that are within everyone's reach, because it's all about the journey, not the destination. A fun escape into nature to enjoy the simple things with those who make you laugh and appreciate life.

Our destination ?
Swiss mountains. Spring arrives late at altitude, but when it does, it is magical. We are thrilled to explore alpine valleys, lulled by the roar of a river that comes to life as the snow melts. There's no better way to end the journey than watching a sunset over a mountain ridge from a cozy bivouac in the heart of nature.

Our mission?
Make everyday feel special and enjoy the simple things in life. Let's get moving!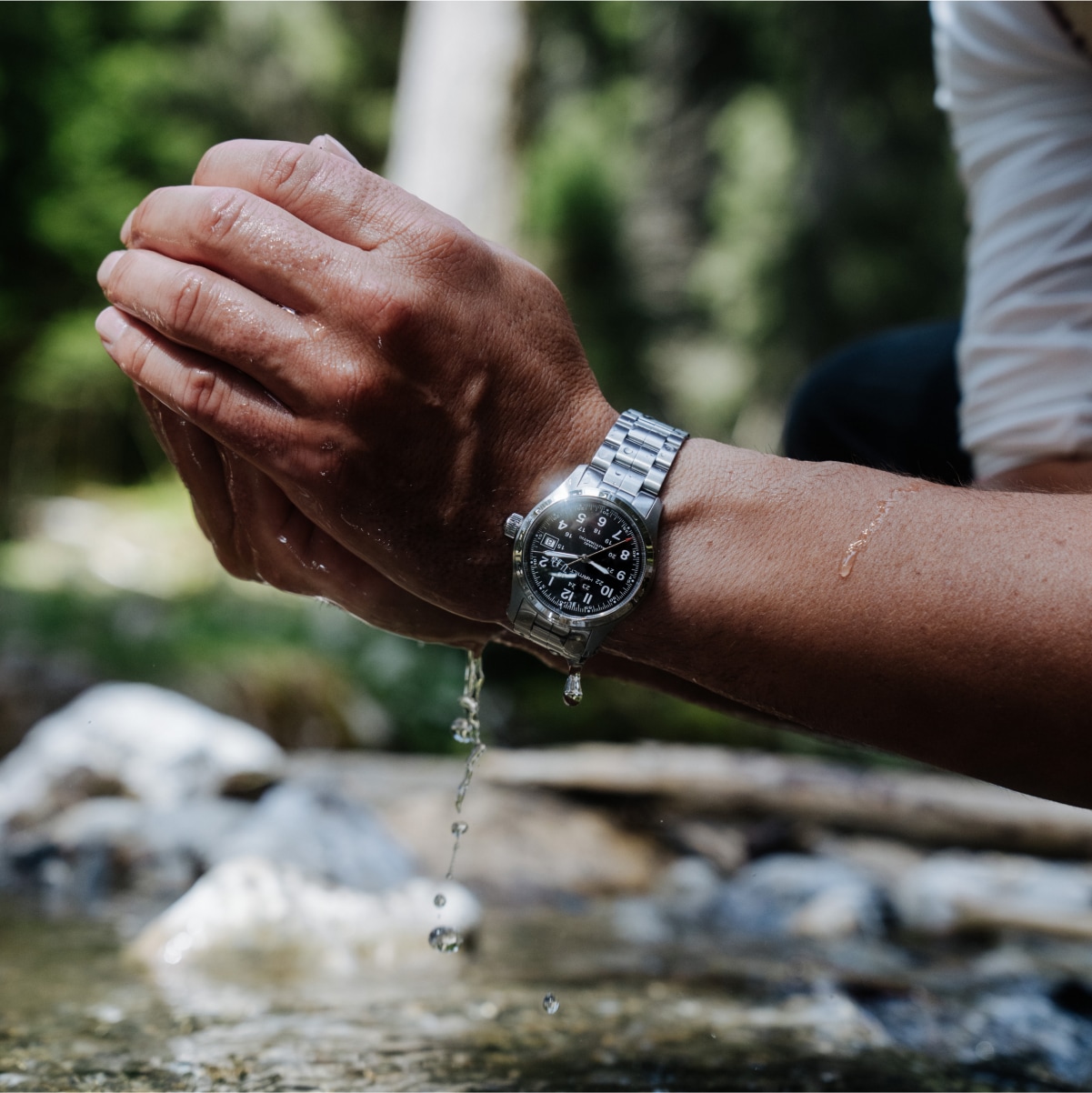 A PLUNGE INTO THE WILD

We start our journey on a mountain trail early in the morning, eager to reach the summit before nightfall.

The 38mm Khaki Field Mechanical is our faithful companion, timing our adventure every step of the way.

With its ultra-legible dial featuring Super-LumiNova® indexes and a durable NATO strap, it won't let us down. It takes a few crown turns to wind it, and then it's ready to serve us for 80 hours.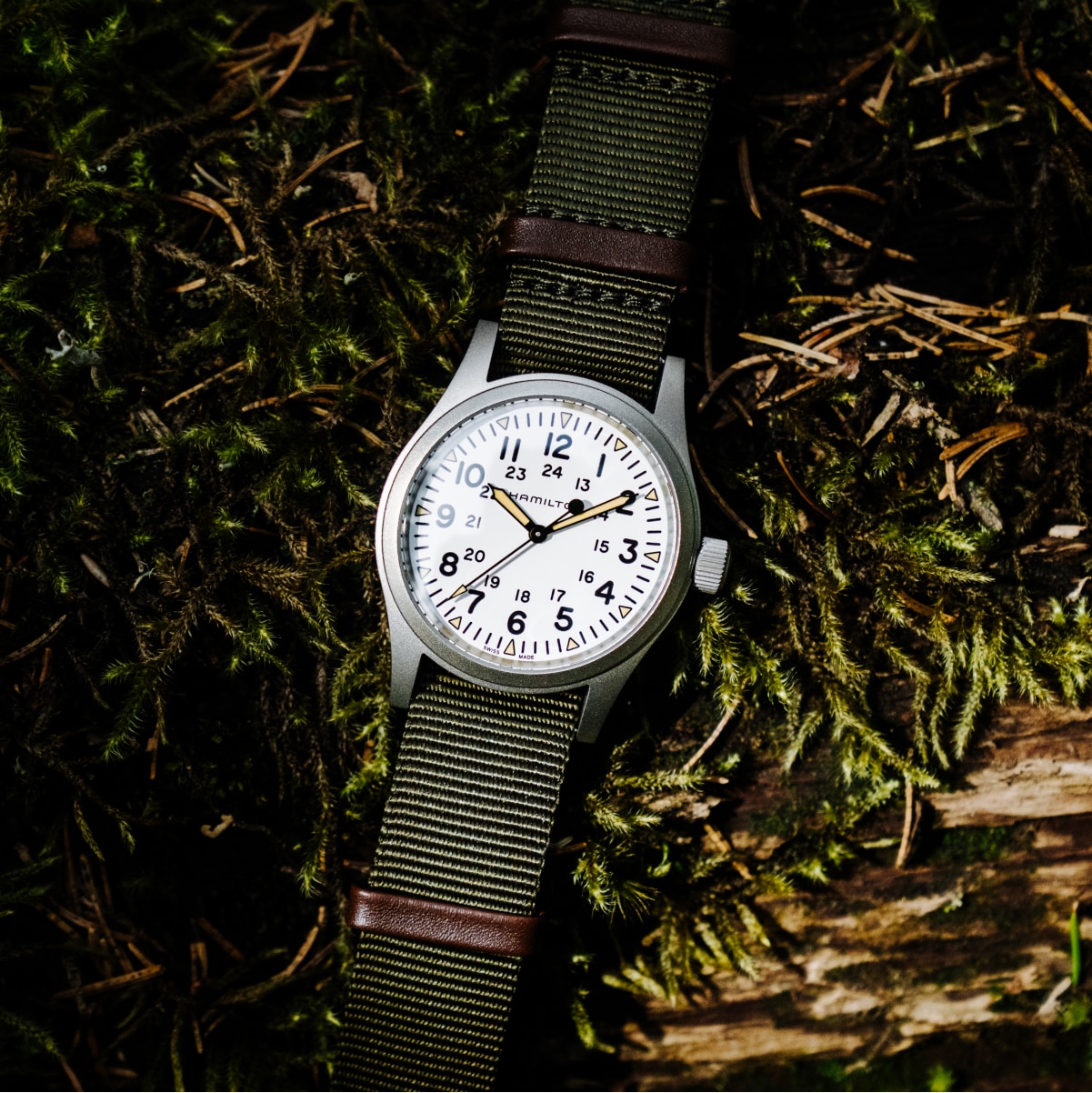 THE ASCENT BEGINS

With every step, breathing becomes harder. Our determination to discover the awe-inspiring views from the top gives us wings.

With three layers of clothing (the golden rule of hiking) and our rugged Khaki Field Mechanical, we are prepared for every kind of adventure, and ready to face whatever nature throws our way.

After a few hours of hiking, we finally reach the summit.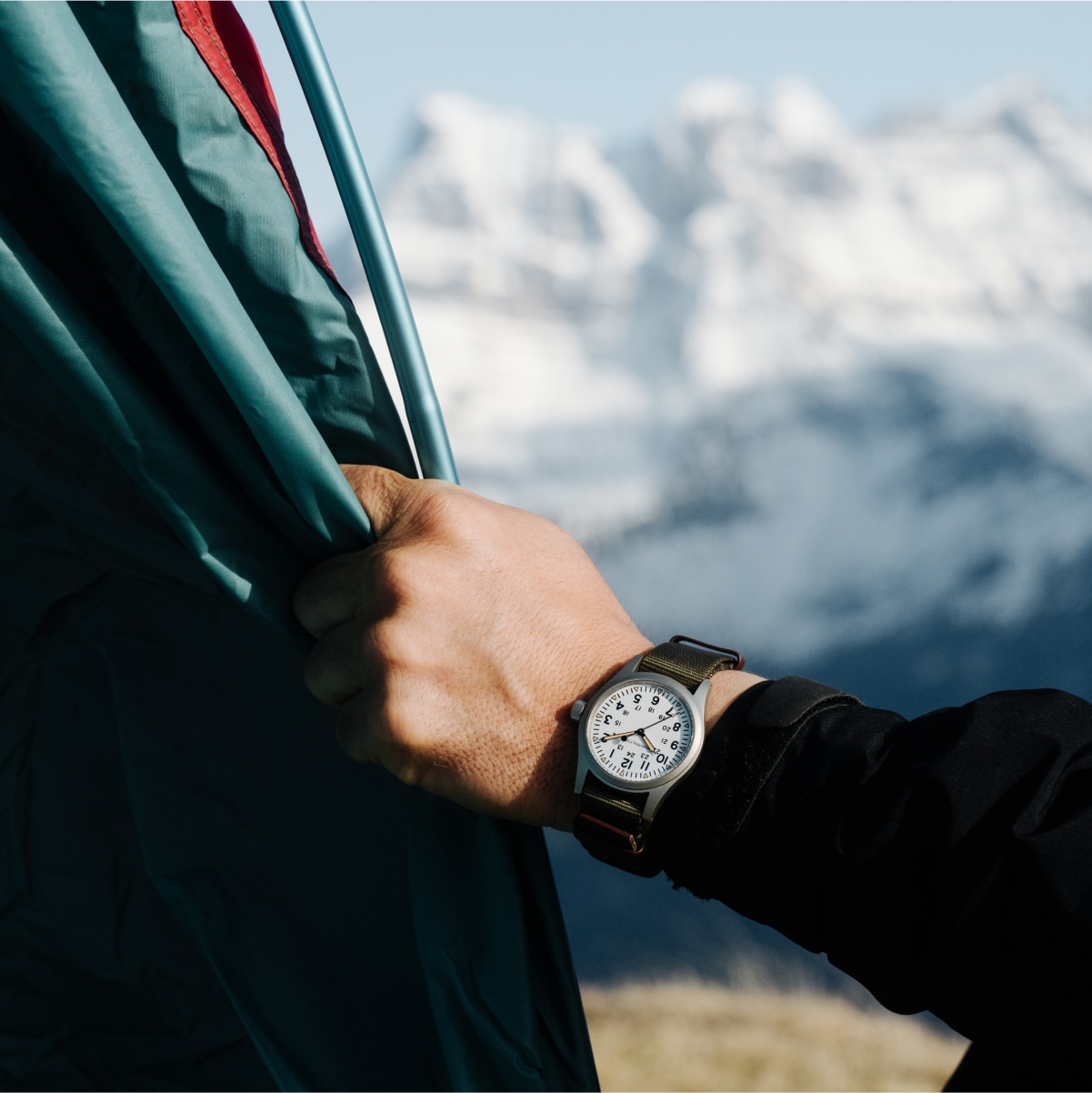 A GOOD NIGHT'S SLEEP IS GUARANTEED

We arrive at the top just in time to set up our tent and celebrate our achievement while the sun is still visible. It's time to share and savor our success.

The Khaki Field Mechanical keeps us company as we cook dinner and admire the sunset. It had seen us through the challenges of the hike and it is now a tangible reminder of our shared experiences.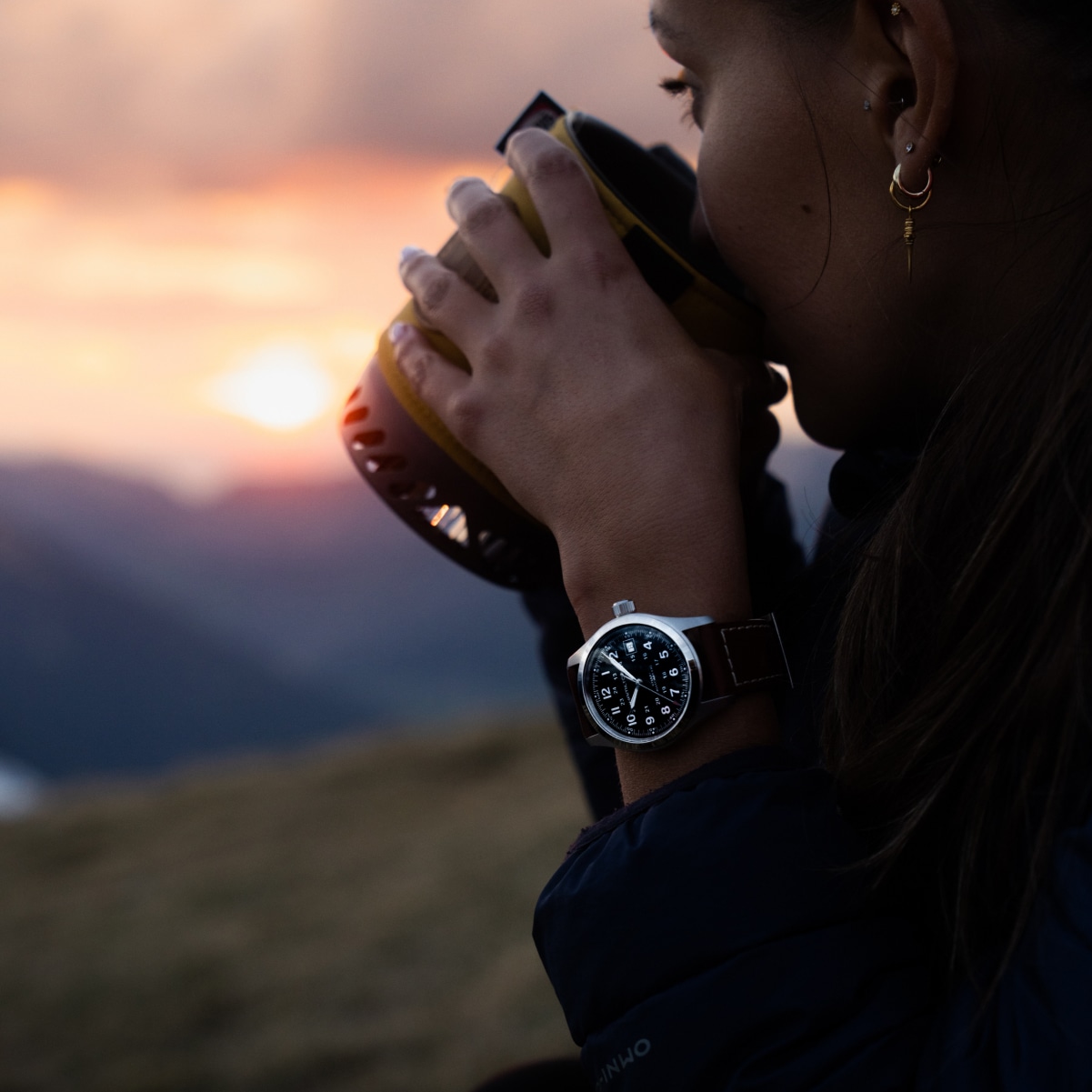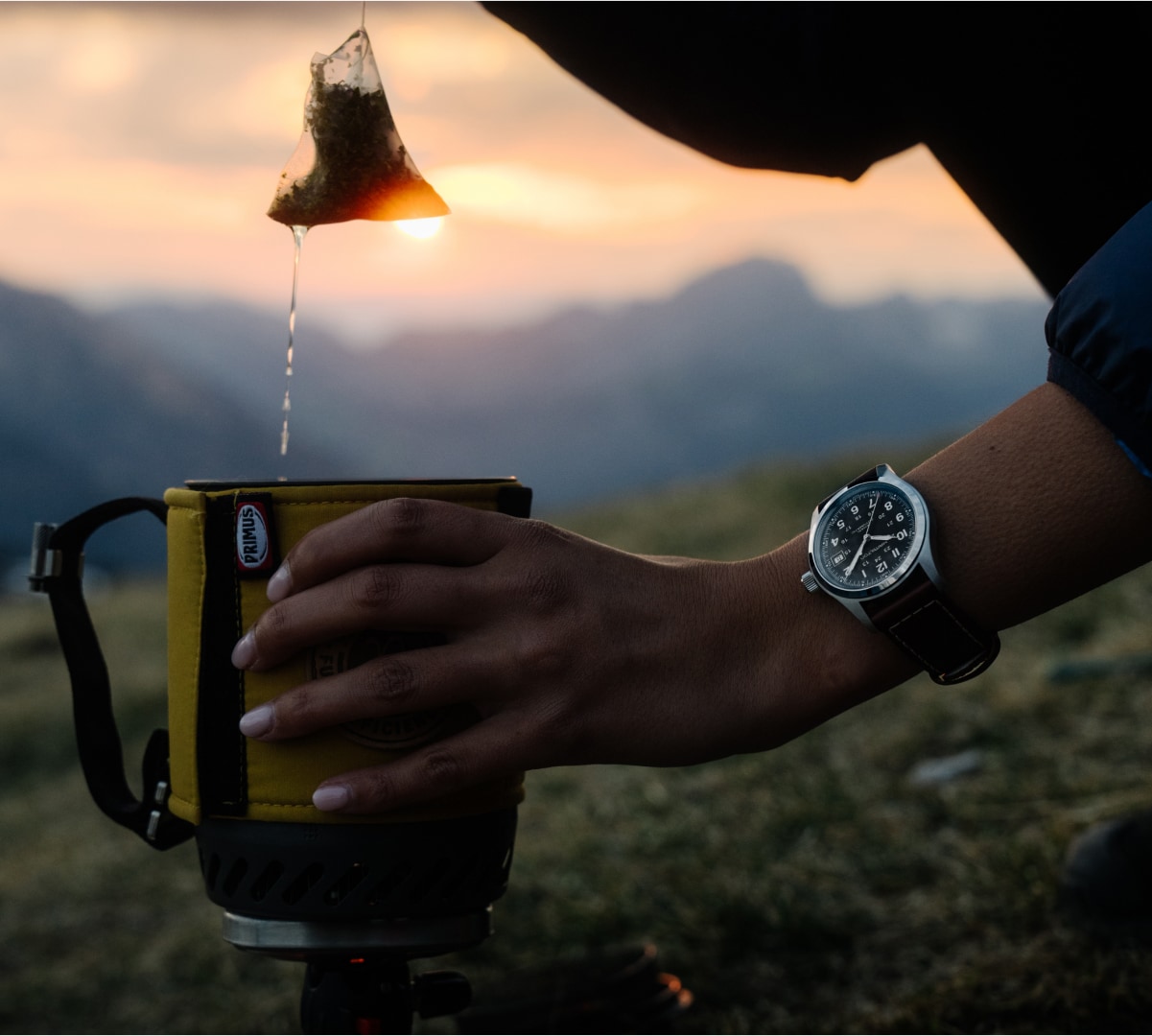 The sun follows its path behind the clouds. We contemplate our journey and watch the last sunrays fall on the hills, leaving yellow stripes of light among the dark slopes. A rewarding feeling of happiness and satisfaction.

For 24 hours, we have been the heroes of our own journey.
Mission accomplished.
EXPLORE IT ALL WITH OUR OUTDOOR WATCHES