SOMEONE SPECIAL DESERVES SOMETHING UNIQUE
The art of gift giving is one of the time-honored traditions and a perfect way to express our feelings. We exchange tokens of our affection during holidays like Christmas and Valentine's Day, and choose special keepsakes offering a moment of surprise or enchantment to mark important milestones or achievements.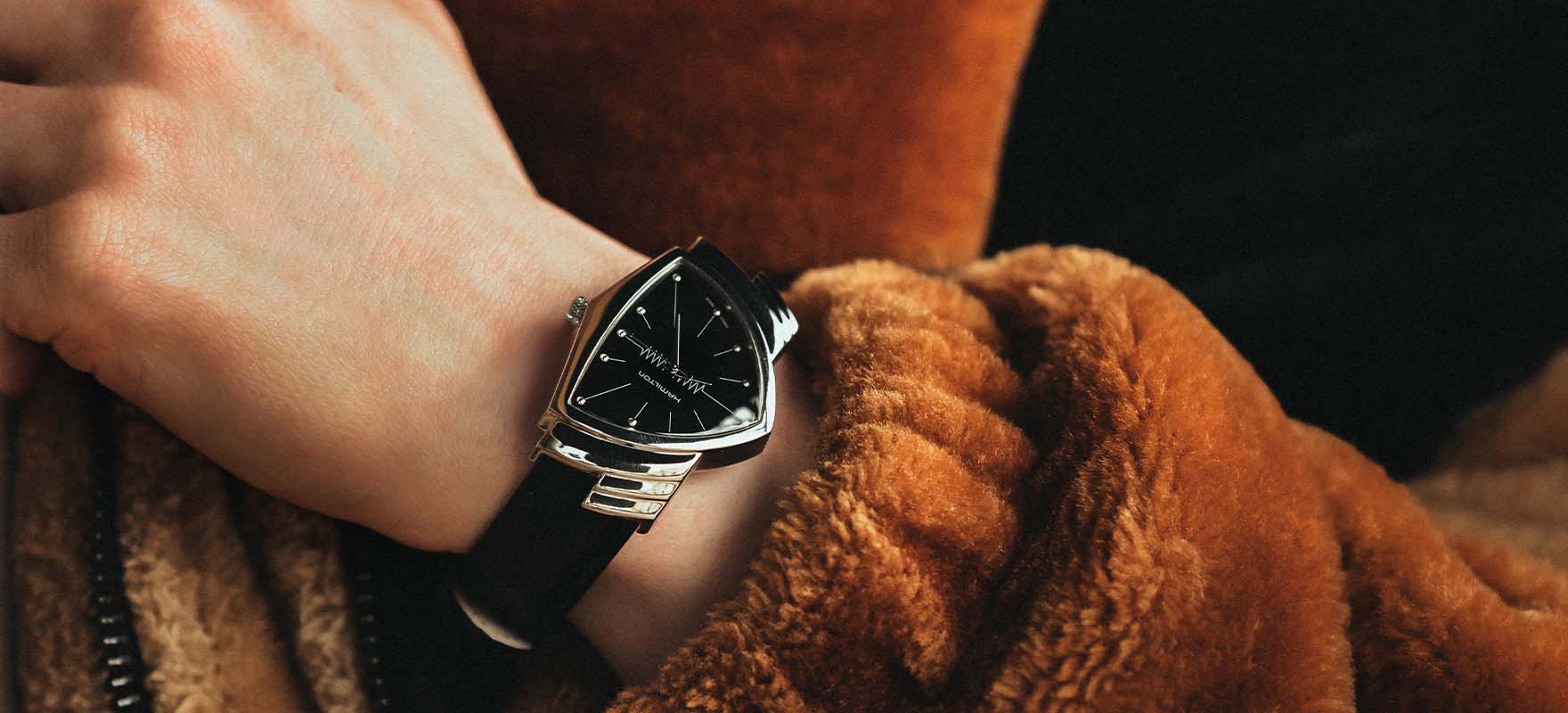 A gift that keeps giving, timepieces are everyday reminders of how much you care and the iconic Ventura is sure to be something they'll treasure for a lifetime.
Can't Help Falling in Love
"Take my hand, take my whole life too, for I can't help falling in love with you," Elvis Presley sings in the 1961 film "Blue Hawaii." On his wrist, our triangular-shaped Ventura keeps time with a rock and roll design all its own. Innovative inside and out, the game-changing timepiece had debuted in 1957 as the world's first electrical, battery-powered wristwatch.
Just like in his song, Elvis couldn't help falling in love, owning and gifting several Ventura models throughout his life. Are you ready to fall in love?
Be Unforgettable
With its distinctive shape and unmatched retro-futuristic flair, the Ventura's style has kept its cool for over half a century around the world and in Hollywood. The official watch of the "Men in Black," agents in each of the franchise's alien-fighting films, the memory of its daring design couldn't even be erased with a Neuralyzer.
Just as unique as the people in your life, the Ventura is gift that will stand the test of time and a bold declaration of love, friendship or appreciation you have for someone special.
Past, Present, Future
We've created dozens of Ventura wristwatches since 1957, each a tribute and continuation of the timepiece's intrinsic innovative spirit. Worn by those who dare to be different, the Ventura's electric appeal is clear.
Whether you choose a classic bare metal stainless steel case matched with a black leather strap, a more modern gold PVD-coated case or a futuristic all-black style, this is a unique gift for someone special.
---