TITANIUM WATCHES
Lightweight strength for any adventure
Titanium is a game-changer, redefining the boundaries of innovation and style. Renowned for its exceptional strength-to-weight ratio, titanium is the ideal choice for crafting timepieces that endure the test of time.

Designed to meet the needs of all adventurers, Hamilton titanium watches are inseparable companions during every outdoor pursuit. From rugged mountain terrains to deep-sea dives, these timepieces withstand the harshest environments, allowing explorers to focus on the thrill of their boldest expeditions.
---
KHAKI FIELD TITANIUM

With a titanium case and bracelet, the newest Khaki Field Titanium represents a balance of timeless design and innovation in materials.

Available in two colors, these latest adventure-ready models are housed in a 38mm or 42mm case, striking the perfect balance between rugged durability and a comfortable fit.

For those who prefer a more understated size, the 38mm Khaki Field Titanium offers a sleek look without compromising on performance.

On the other hand, the 42mm Khaki Field Titanium makes a bold statement, suited for those seeking a rugged and robust timepiece that can handle any challenge.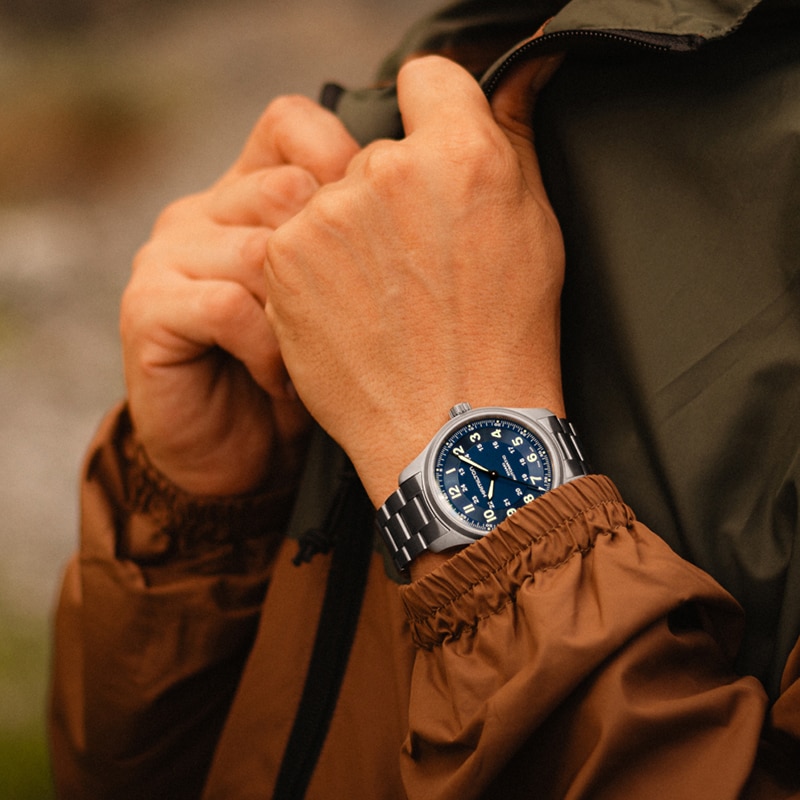 Hamilton's iconic military inspired Khaki Field Titanium is now even more versatile. Available in two new models - matte black and brushed titanium, each color is offered in two sizes, with the brushed titanium version including a matching bracelet.
STRONGER AND LIGHTER THAN EVER

Opt for a sleek, bold, matte black titanium case and bracelet, paired with a matching black dial for a monochromatic effect. Or, for a stylishly classic alternative, choose the brushed titanium case and bracelet, paired with a deep blue bi-tonal dial.

The Khaki Field Titanium boasts cutting-edge engineering, designed to resist the rigors of exploration without compromising on aesthetics. Each version features Super-LumiNova® coating on hands, indexes, and numerals, for clear indication at any time, day or night.

No matter the size or color, the Khaki Field Titanium is a timepiece that will grow even more beloved with every journey.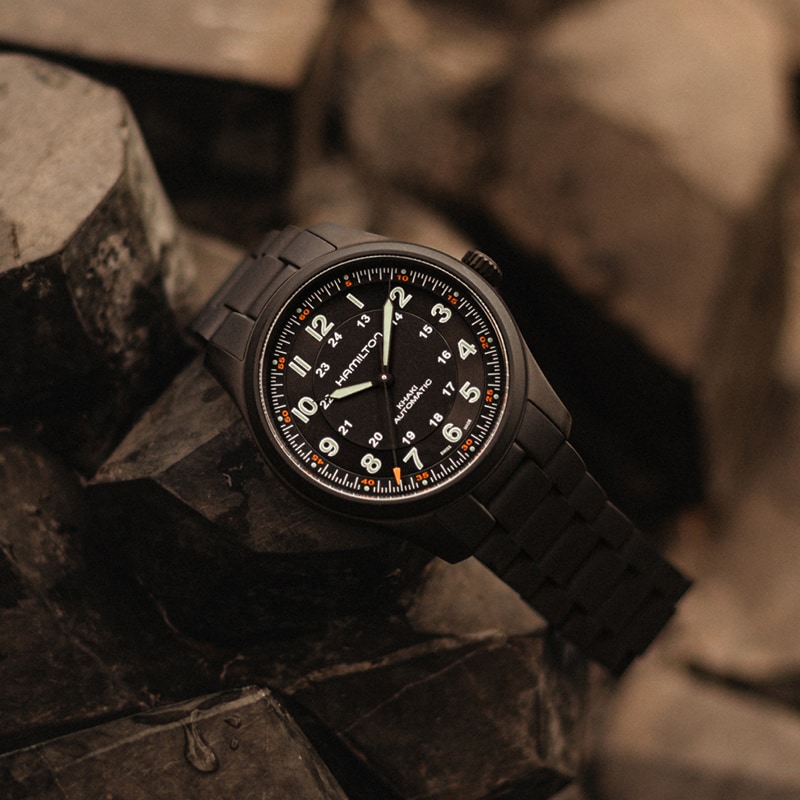 With its strength, comfort and enduring appearance, titanium takes timekeeping to a level where innovation meets adventure, making it a timeless choice for those who embrace the journey of life on their wrists.
A FIELD WATCH THAT HAS IT ALL

Paired with a nubuck leather strap for supple comfort and timeless appeal, the Khaki Field Titanium is the ultimate all-purpose watch for modern heroes.

At the core of the design lies unwavering performance, with each timepiece enhanced with high-grade Super-LumiNova® on the hands and 12-hour numerals, guaranteeing flawless legibility with just a glance.

Beneath the dial, Hamilton's meticulously engineered H-10 movement unveils an impressive 80-hour power reserve, boasting a balance spring crafted from Nivachron™. As one of watchmaking's cutting-edge materials, this alloy showcases unparalleled resilience against shocks, magnetic fields, and temperature fluctuations, ensuring precise timekeeping even in the most demanding conditions.

Match your next adventure to an array of options, available in various sizes and styles.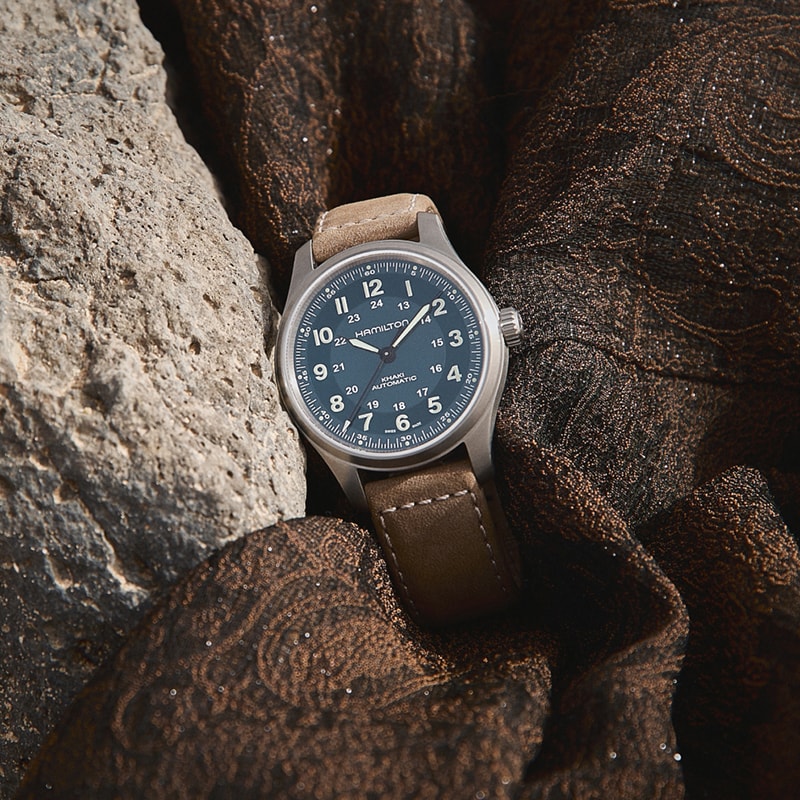 MADE FOR ACTION ON AND OFF THE BIG SCREEN

A favorite of filmmakers, the bold design of the Khaki Navy BeLOWZERO appears in hit movies like "The Martian" and "TENET." Inspired by the daring exploits of cinematic heroes, the Khaki Navy BeLOWZERO has transcended the big screen, making its way into the hands of adventure enthusiasts in real life.

Housed in an impressive 46mm case crafted from titanium, the timepiece is made to endure the most demanding conditions, just like its on-screen inspiration.

Dark grey Super-LumiNova® coats the hands and numbers on the watch's sleek black dial, increasing readability in low light conditions.

With a passion for exploration at its core, the Khaki Navy BeLOWZERO pays homage to audacious adventure and an unwavering quest for the extraordinary.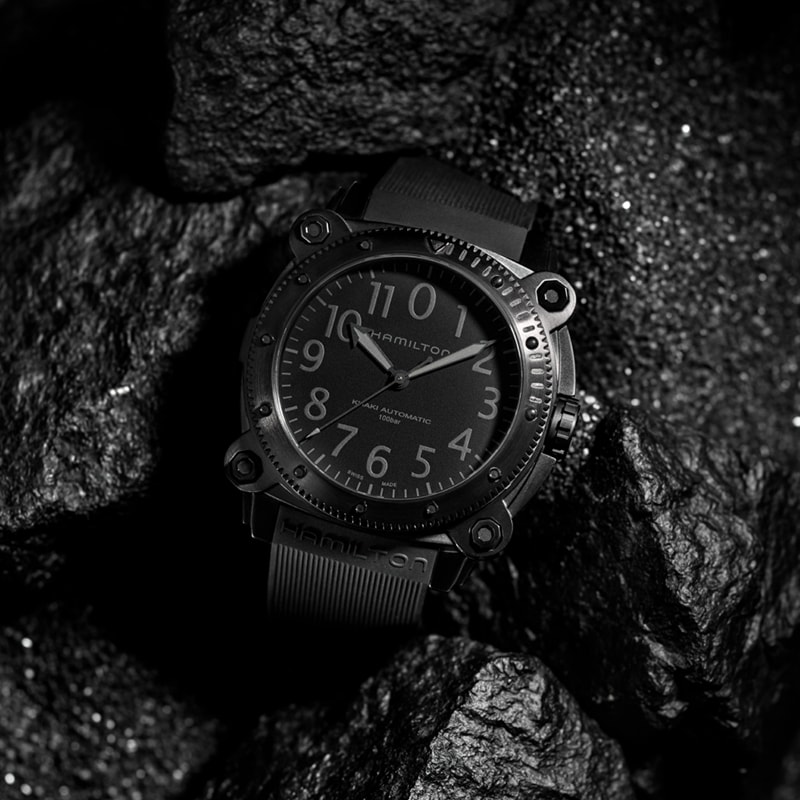 From the wild outdoors to the bustling city streets, Hamilton titanium watches are the ultimate companions for every journey you undertake.