CHIC, CONTEMPORARY, CREATIVE
The new Jazzmaster Open Heart reveals its inner workings with effortless style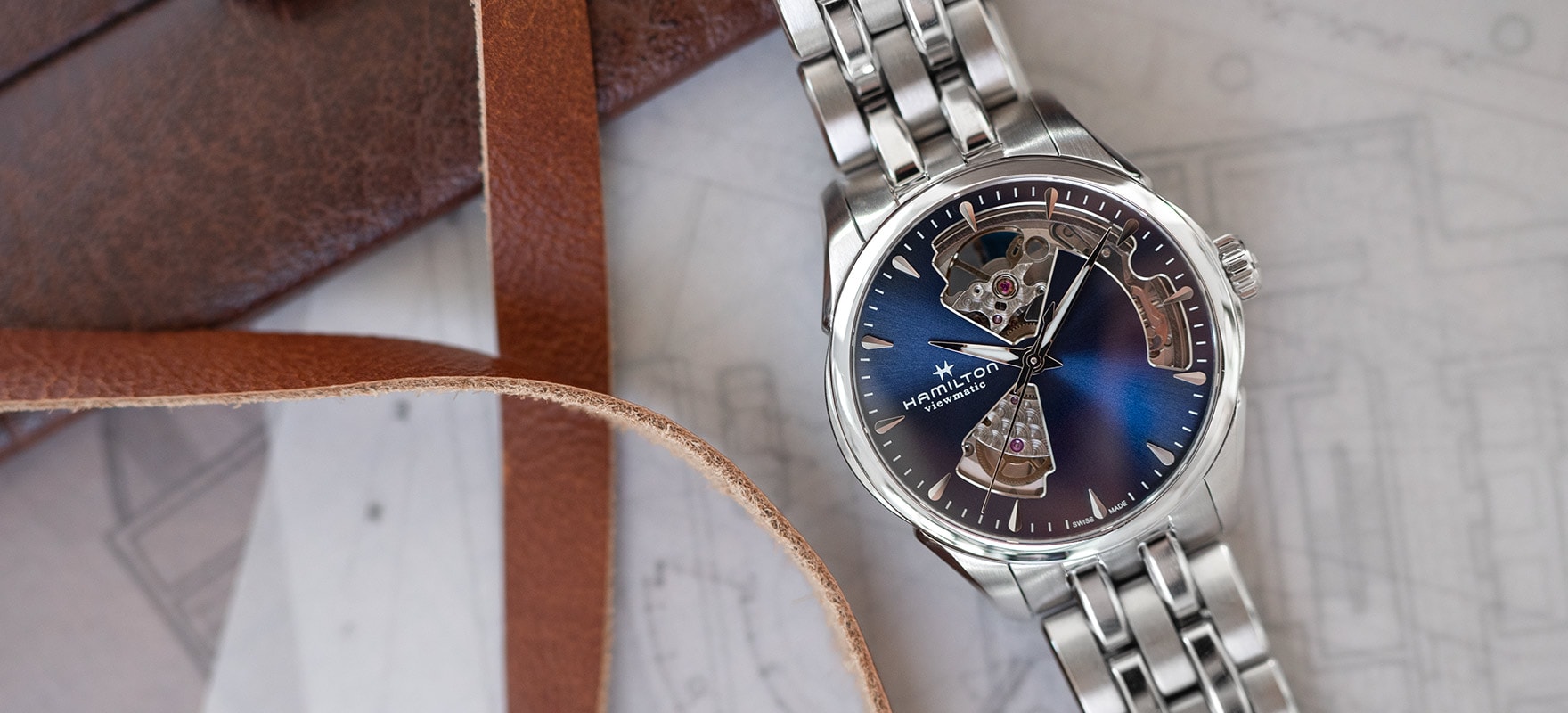 At Hamilton, celebrating craftsmanship does not mean sacrificing style –the opposite, in fact. Take the new Jazzmaster Open Heart 36mm – a wristwatch that reveals its mechanical heart in an effortless way. Sized perfectly for the female wrist, it's a wristwatch whose sophisticated creativity shines in this wristwatch sized perfectly for the modern woman.
At Hamilton, skeletonized and open-heart watches are something of a specialty, and our designers love creating on original and unique cutout shapes that open up the dial of these most sophisticated watches. The idea is to reveal a glimpse of the mechanical parts that keep time ticking onwards, and what's on show beneath the striking cutouts of the Jazzmaster Open Heart is truly special. Our innovative H-10 automatic movement is a piece of watchmaking innovation, assembled with total precision and skill. It has an extended power reserve of 80 hours.
At its heart is a spiral hairspring made from the new alloy NivachronTM, an advanced anti-magnetic material developed to deliver the most accurate and reliable performance under any conditions.
That means that whether you're delivering a keynote, dashing to the next business meeting or hitting a rooftop party, the Hamilton Jazzmaster Open Heart is a wristwatch that will always be equal to the pace and challenges of contemporary life.
It's also a timepiece that subtly underscores the individual personality of its wearer. With a chic and streamlined stainless steel case, it offers dial options of black, ice blue, deep blue or mother-of-pearl. You can pair your watch with a black, white or beige leather strap, or a stainless steel bracelet – the choice is yours, thanks to our easy-click system that allows the wearer to switch straps easily.
The Jazzmaster Open Heart 36mm is as refined as it is beautifully made. It is a sure statement of style and authenticity for those who enjoy looking beyond what's obvious in life.
---