GIFTS FOR MEN FROM HAMILTON
Finding the perfect gifts for men can be notoriously challenging. Husbands, boyfriends and fathers are often difficult to buy for. At Hamilton, we have a great range of watches to suit the most discerning men in your life. Here, you're guaranteed to find a present that will make him smile and that he'll want to wear immediately! Check out our guide to some of the best watches in our men's selection.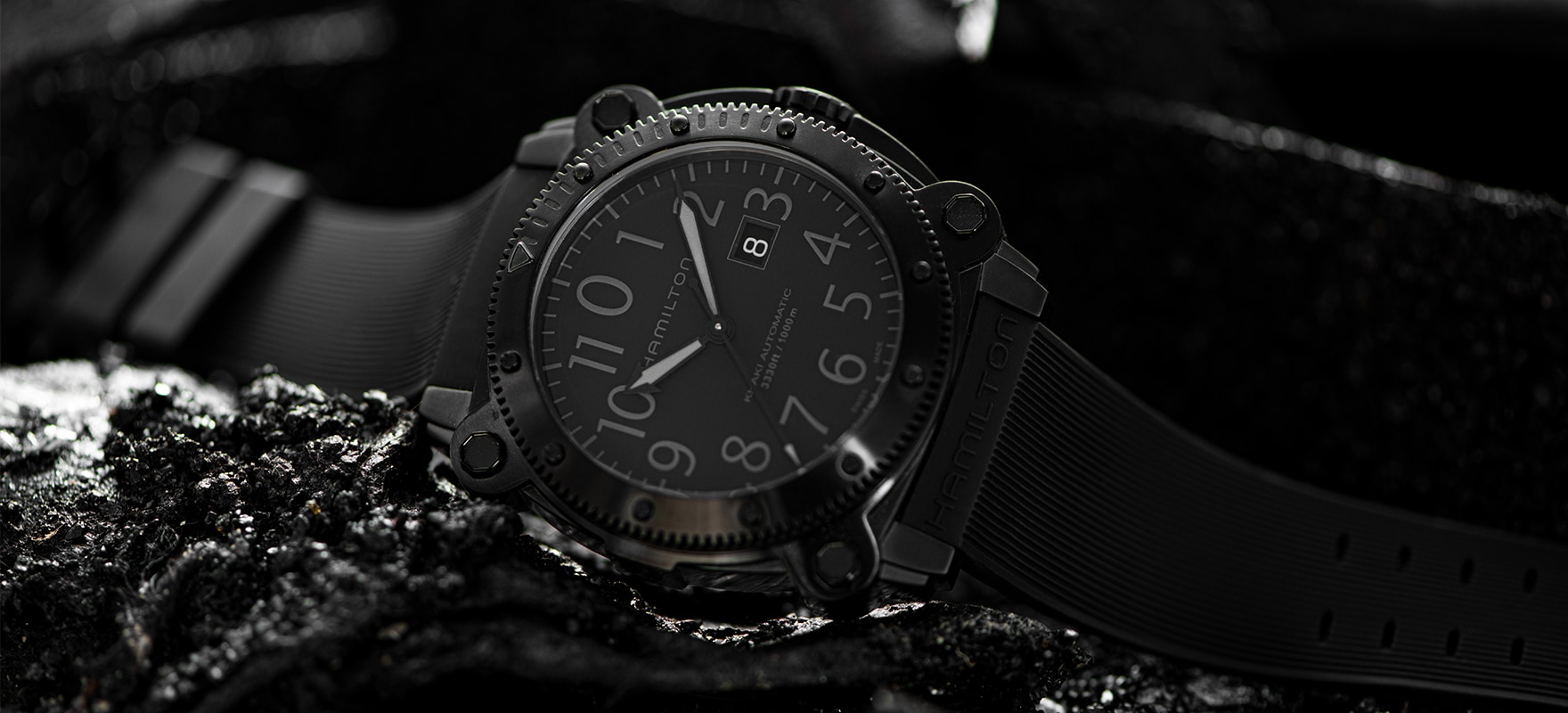 Our Khaki family offers a range of watches that have been developed over the course of our rich history. Tested by the best, these are models developed for the military. They're perfect for the outdoor type, boys and men who love gadgets or watches and have a bold look in mind.
For those captivated by the idea of flight, the Khaki X-Wind Auto Chrono is packed with amazing features. It has the first ever drift angle calculator to appear in a watch and helps pilots accurately calculate how crosswinds will affect their journey. With a technical look that also suits urban aviators down to the ground, it's the perfect everyday co-pilot.
For men who prefer the depths of the ocean to the skies, we have diver watches in the shape of the Khaki Navy Frogman Auto and the Khaki Navy BeLOWZERO. Both have essential features aimed at keeping divers safe in the depths. The BeLOWZERO boasts water resistance of 100 bar (1000m) and a helium escape valve for underwater exploration.
For action heroes, the Khaki Field Murph Auto is a must! A faithful recreation of the watch that appeared in the movie Interstellar, it's a collector's item for fans of the movie and Hamilton enthusiasts.
Perfectly balancing tradition and innovation, the Jazzmaster Open Heart offers a glimpse of its precise Swiss automatic movement in action. Using quality materials, it shows Hamilton at our best.
The Spirit of Liberty Auto Chrono references our rich heritage with the inscription "Without liberty, life is a misery". It's a quote from founder Andrew Hamilton who was an early campaigner for freedom of speech. The H-21 chronograph movement, with a typical power reserve of 60 hours, propels this timepiece into the 21st century.
If your man likes to stand out in a crowd, our iconic Ventura is the ideal choice. It made watchmaking history as the first electrical, battery powered watch when it was launched in 1957 and quickly gained many fans, including the biggest male star of all time: Elvis Presley. This model was created to celebrate Elvis's 80th birthday and has an 80-hour power reserve.
For men of action, distinction and great taste, you'll find the gifts you're looking for at Hamilton. But these are just a snapshot of our extensive offering. To find out more, check out our collections. You're guaranteed to find a present for the man in your life.
---