THE SPIKY H – HAMILTON'S DESIGN SIGNATURE
The modern design of the Jazzmaster Skeleton is inspired by a symbol of Hamilton's heritage, our famous spiky H.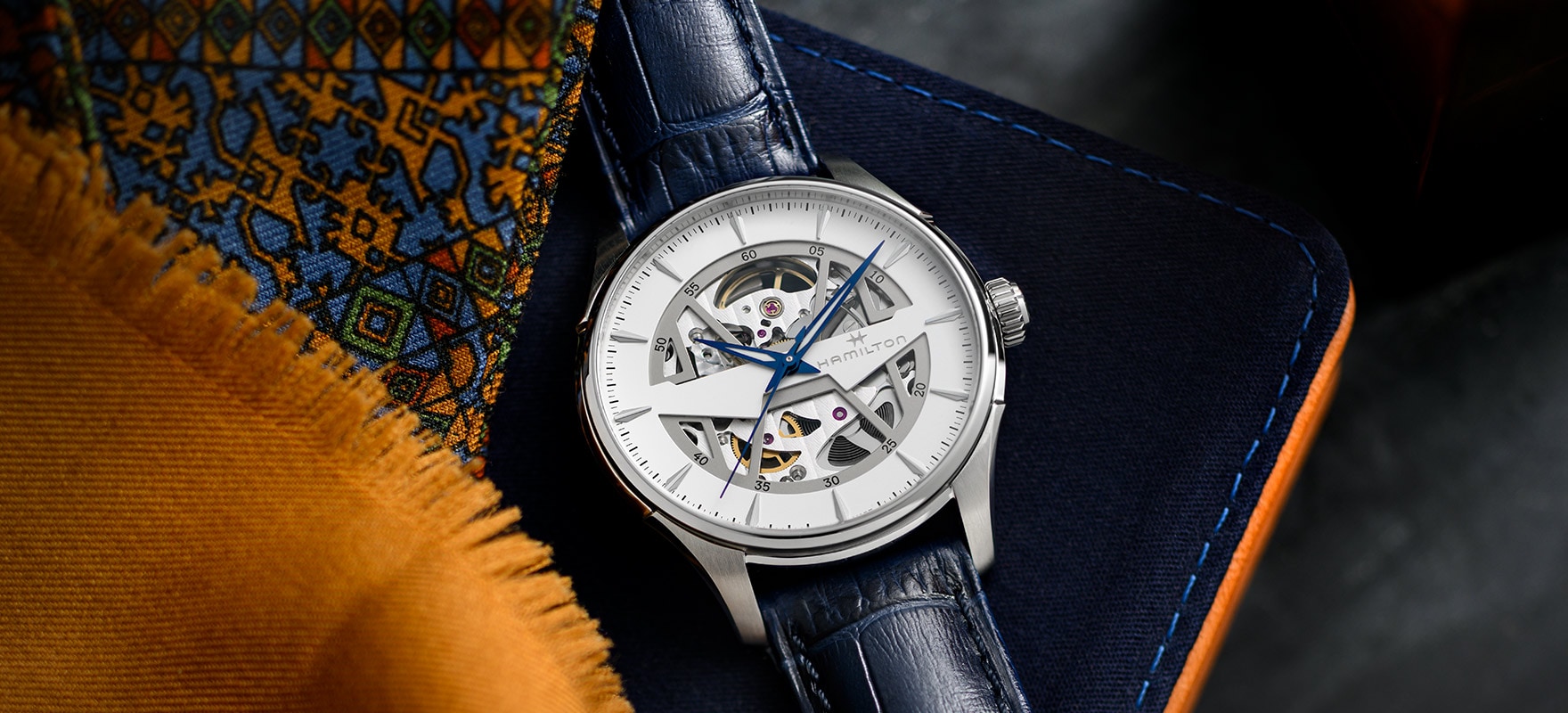 In an era of ever-accelerating technology and busy schedules, this skeleton-style wristwatch captures our attention with its intricate design. Mechanical excellence shines in the new Jazzmaster Skeleton that seamlessly integrates a symbol of our heritage into a modern skeletonized wristwatch.
The 'spiky H' is a design signature that goes back to our American roots. A mainstay of Hamilton watches for several decades – you'll find it on the crown of the new Chrono-Matic 50 for instance, or on the Khaki Pilot Schott NYC. To showcase the Jazzmaster Skeleton's beautiful micromechanics in a dynamic, contemporary way, our designers decided to incorporate this symbol into the skeletonized design itself.
Accordingly, the Jazzmaster Skeleton is a mechanical timepiece with all the key elements of our exclusive and innovative H-10-S automatic movement on show. Look closely through the spiky H cutaways and past the architectural bridges below, and you will see the inner-workings beautifully laid out: the mainspring, which stores up a remarkable 80 hours of power reserve; the wheels of the gear train that transfer the mainspring's energy through the movement; and revealed at 12 o'clock, the balance wheel and hairspring that vibrate back and forth at lightning pace, guaranteeing accurate timekeeping.
The strong character of the skeleton design is maintained through the rest of the wristwatch, with polished applied hour markers, and contemporary hands inlaid with Super-LumiNova® against black or white cutaway dials. The refined case is in stainless steel with a high quality finish, including one version with a rose-gold PVD coating. The Jazzmaster Skeleton is available on a calf leather strap or on a bracelet – whichever suits your lifestyle best.
The Hamilton Jazzmaster Skeleton is a wristwatch of unquestionable individuality. And in its bold and seamless blending of our much-loved signature with the watchmaking expertise lying beneath, it is the embodiment of our motto: American spirit, Swiss precision.
---