The watchmaker




of filmmakers
For almost 90 years, Hamilton has established itself as "the movie brand", a revered and iconic presence in the world of cinema and horology. Prominently featured in over 500 movies and TV shows, Hamilton timepieces have been meticulously curated by the leading prop masters and visionary directors, captivated by their historical accuracy and their unique ability to breathe life into characters.
Ticking into film history
In the 1932 hit, Shanghai Express, British army officer Captain Harvey, played by Clive Brook, reveals a Hamilton watch bearing a hidden photo of Lily, played by Marlene Dietrich in her most sultry and iconic role. This emotional twist confirms his enduring love. This striking debut marked the start of Hamilton's legacy as Hollywood's top cinema watch choice, gracing the wrists of film's most iconic figures.
1932
Hamilton watches made their cinematic debut in the landmark film Shanghai Express, starring Marlene Dietrich.


1951
Hamilton's military watches took center stage in the major Hollywood film, The Frogmen.


1961
Ten years later, the Ventura starred on the wrist of the King of Rock and Roll, Elvis Presley, in his musical comedy, Blue Hawaii.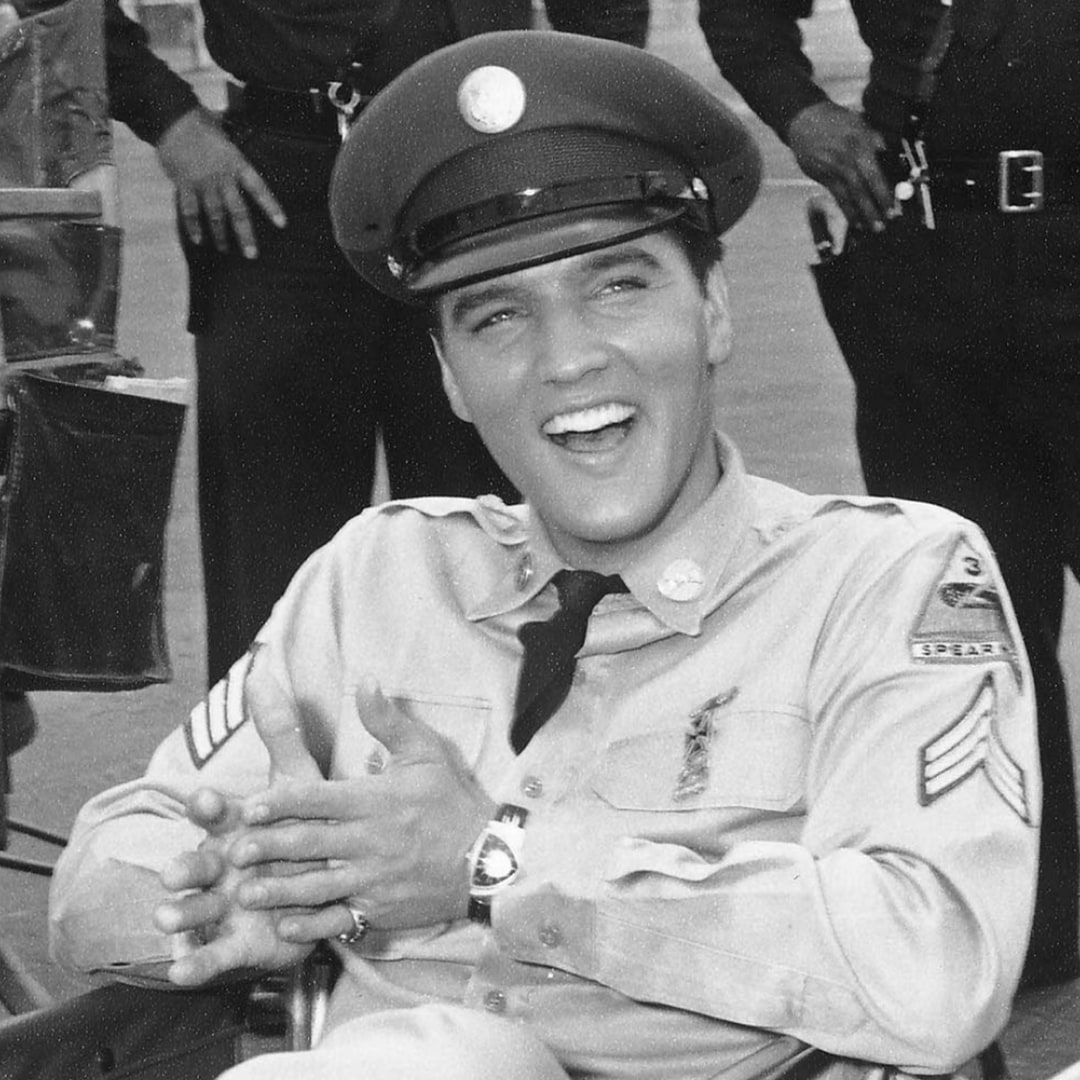 Since then, Hamilton timepieces have been featured on the silver screen more than 500 times, enhancing both plot realism and character depth. Their presence across diverse genres underscores the versatility of the Hamilton collection.
Over 500 appearances in movies and TV shows
Hamilton watches have long occupied a unique space in the world of cinema. As filmmakers weave compelling stories, these timepieces effortlessly integrate, imbuing plots with an added layer of authenticity and dimension.
In the 1951 World War II film, The Frogmen, Lt. Franklin, portrayed by Richard Widmark, leads a team of US Navy demolition divers, equipped with Hamilton Frogman watches, mirroring the actual gear real divers would have used. Notably, the 'canteen' crown from the original Frogman watch remains a feature on its contemporary version, the Khaki Navy Frogman.

In the modern World War II epic, Pearl Harbor (2001), fighter pilots Raf McCawley and Danny Walker, played by Ben Affleck and Josh Hartnett, are seen wearing our Khaki Field Handwinding. This retro design draws inspiration from the robust watches Hamilton provided to thousands in the U.S. military.

In one of cinema's most renowned sci-fi blockbusters, Men in Black, the Ventura's futuristic design graced the wrists of the universe's elite alien hunters, the Men in Black. Both Agent J and Agent K, portrayed by Will Smith and Tommy Lee Jones, sported the Ventura in the inaugural 1997 film. This iconic timepiece has since made appearances in all four sequels, with its latest showcase on Agent M, brought to life by Tessa Thompson in Men in Black: International (2019).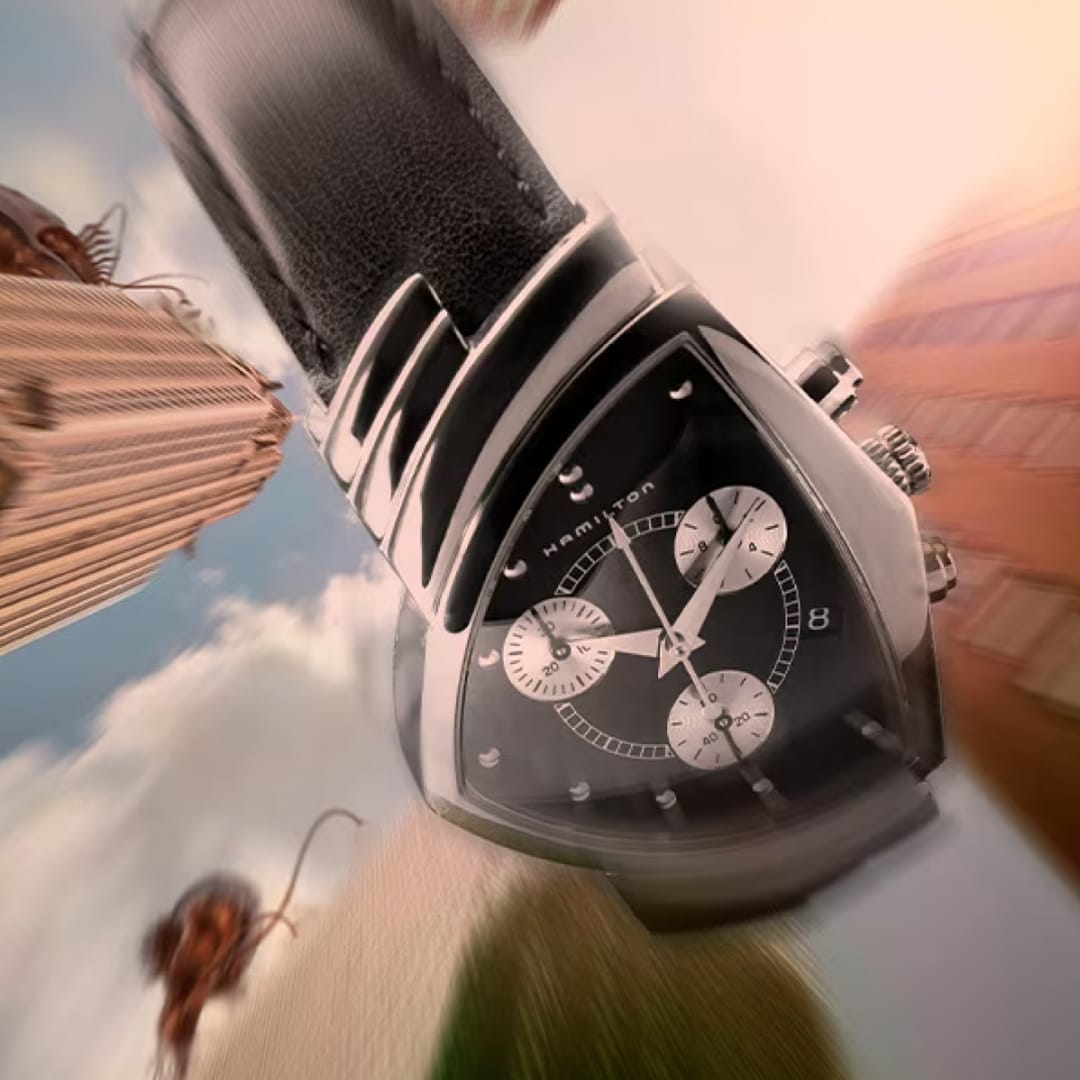 From the battlefields to the realms of extraterrestrial encounters, Hamilton's watches have consistently bridged eras and genres in cinema. These timepieces not only tell time but also effortlessly integrate into the spectrum of numerous film narratives, becoming iconic symbols in their own right.
In cinema's standout moments, watches play a pivotal role in shaping a character's identity. Indeed, characters are defined by their professions, attire, actions, and notably, their choice of timepieces.

For filmmakers, every detail matters in conveying the story's essence. Our prop watches become reflections of personalities, time periods, and themes. With a dedication to craftsmanship and an understanding of cinematic nuances, we ensure that every second on screen is enriched with authenticity and precision.
Hamilton's

first prop watch

Hamilton consistently collaborates with production teams, directors, producers, prop masters, and industry insiders to maintain our brand's visibility in the cinematic world. Despite the surge of partnership requests, we prioritize projects that align with our brand's core values. Authentic collaborations that resonate with our principles often lead to mutual success and lasting impact.

At times, the perfect watch for a film wasn't available. That's when filmmakers approached Hamilton to craft something unique. Stanley Kubrick entrusted Hamilton with the task of designing innovative watches and clocks for his visionary film, 2001: A Space Odyssey.

The first Hamilton prop watches were born.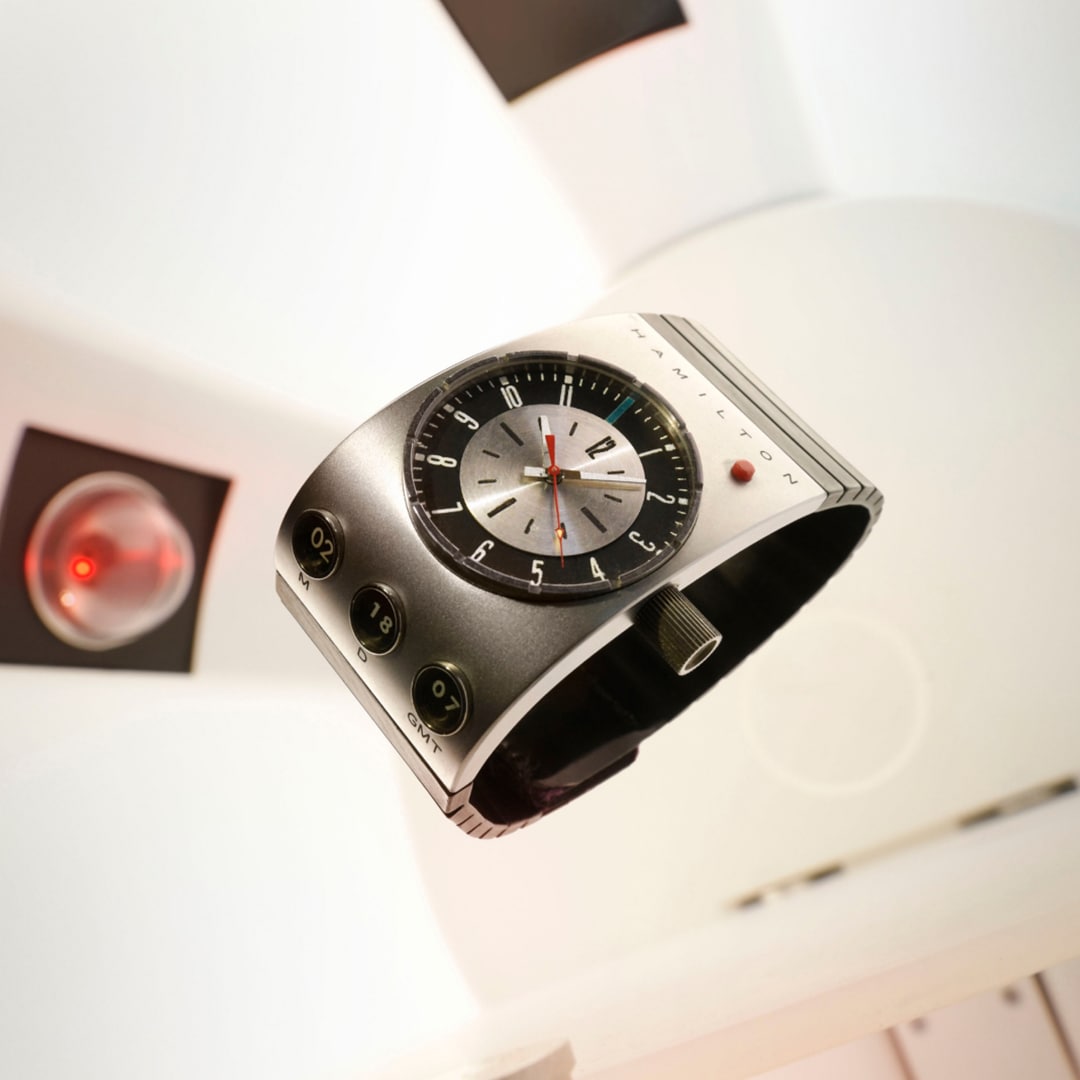 Tenet

In collaboration with the design team from Christopher Nolan's film, TENET, Hamilton's designers and engineers designed a bespoke watch. This timepiece showcased distinctive features, emphasizing the unique trust placed in Hamilton to realize such a vision.


Over an 18-month period, our preparation included technical development, testing, and production at the Swatch Group's laboratory in Switzerland. Here, our engineers skillfully integrated the essential technology with the dial display of our Khaki Navy BeLOWZERO.

To meet filming needs, we produced multiple units of the final prop watch. Hamilton watchmakers were present on set to assist with the watch's distinct functionalities.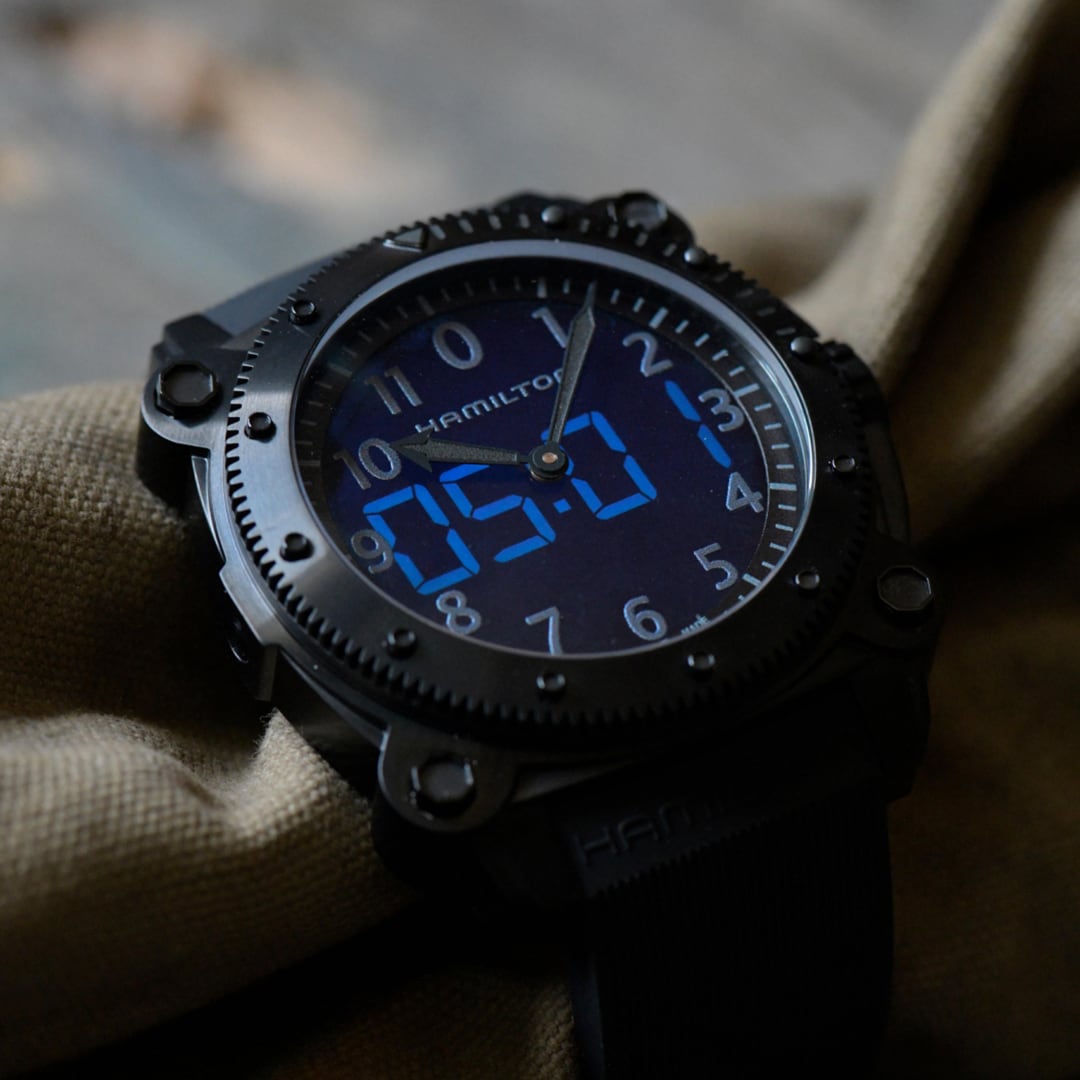 The Wandering Earth 2

When time holds deep emotional value, what stories are captured within a custom Hamilton watch?

During the movie's preparation phase, Director Frant Gwo approached Hamilton's design team with a unique request: to create a custom timepiece for his upcoming film, The Wandering Earth 2. He envisioned the watch embodying the ancient Chinese philosophy of "a Round Sky embracing a Square Earth," which is deeply rooted in Chinese ink painting artistry.

Accepting the challenge head-on, our watch design team collaborated closely with Frant Gwo, drawing insights from his vision for The Wandering Earth and his perspective on science fiction films. After months of meticulous refinement, we unveiled a unique prop watch that made its debut on the big screen.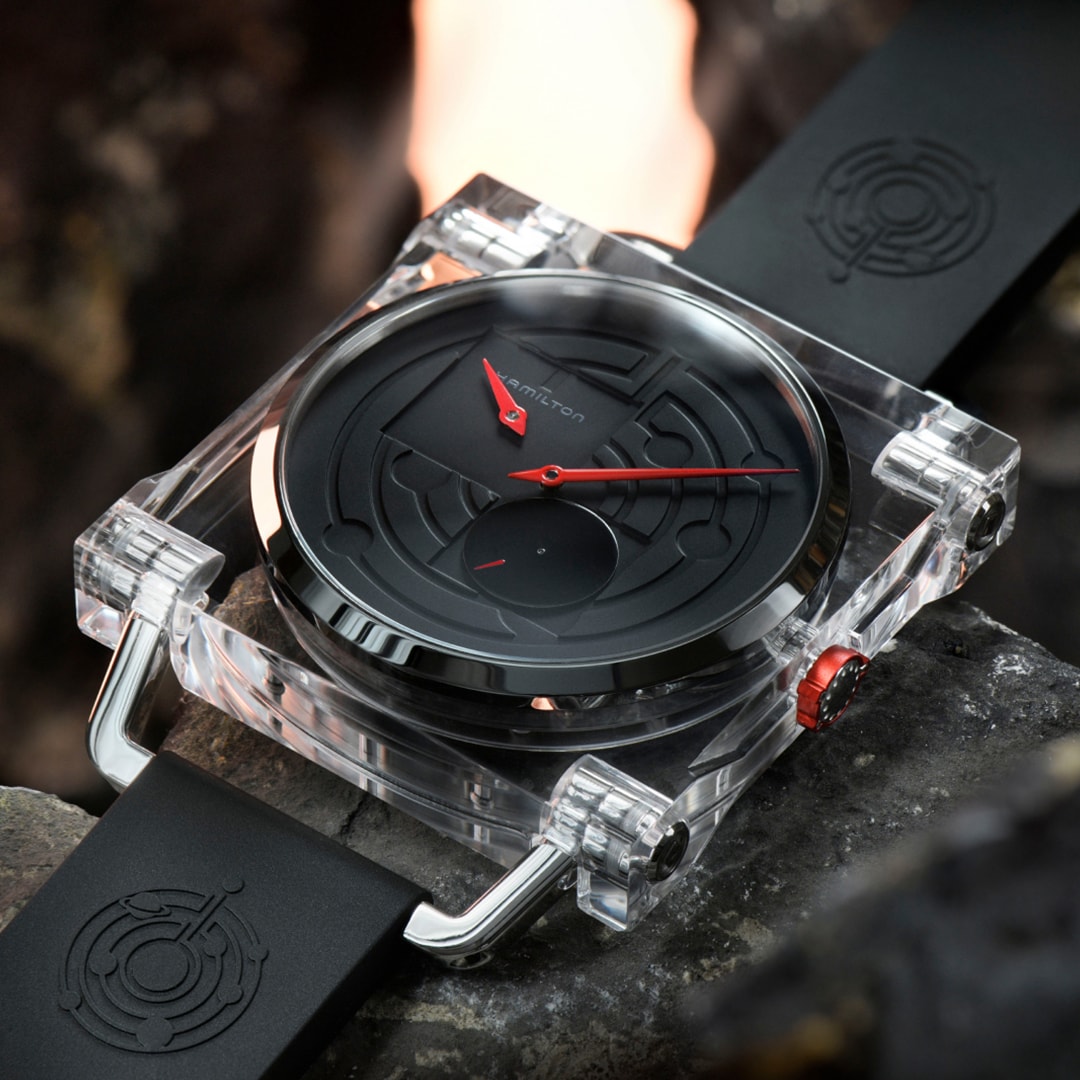 Hamilton has always welcomed the challenge of creating prop watches to bring filmmakers' vision to life on the wrist. Each project pushes our boundaries, demanding both precision and creativity. We eagerly embrace the challenge, finding great reward in being an essential element of the storytelling process.
Collaboration with filmmakers
Hamilton's legacy in the cinematic world is anchored by our enduring and trusted partnerships with filmmakers. These deep-rooted ties have enabled us to adorn the wrists of characters in some of the world's most iconic blockbusters. Our collaboration with the visionary director, Christopher Nolan, exemplifies the synergy between timekeeping and storytelling.
Interstellar

Hamilton's collaboration with Christopher Nolan's 2014 sci-fi masterpiece, Interstellar, stands out as one of our most significant cinematic partnerships.


'The Murph' watch, designed and created especially for the movie, is an integral part of the plot and one of the emotional links between the two main characters, lead protagonist Joseph Cooper played by Matthew McConaughey, and his daughter, Murphy, played by Jessica Chastain in adulthood.


Five years later, the custom-made prop watch was brought to life as the Khaki Field Murph, the 42mm spot-on reproduction of the movie timepiece. In 2022, we released a smaller version of the big screen icon, the Khaki Field Murph 38mm.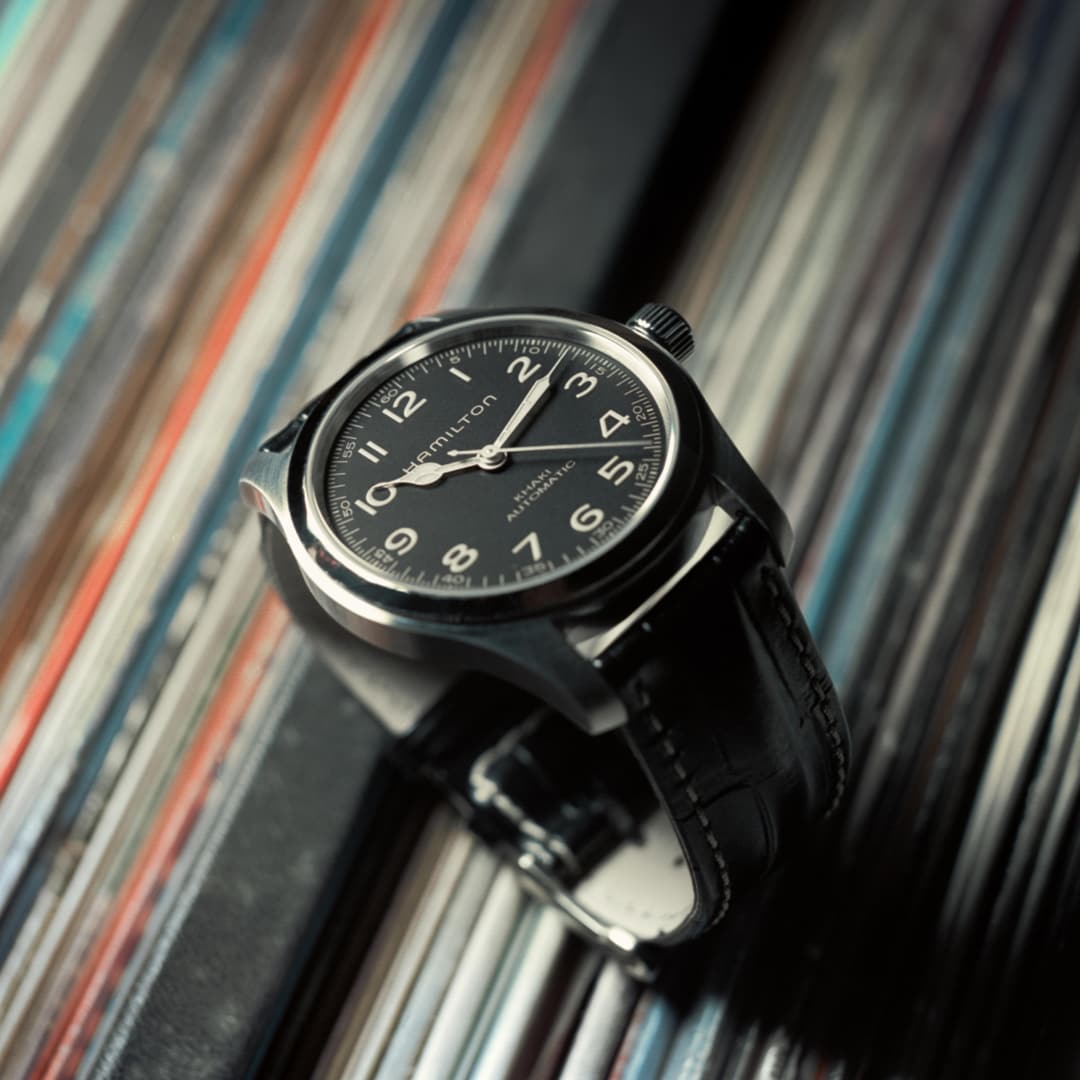 Oppenheimer

Christopher Nolan, renowned for his meticulous attention to plot and character details, once again joined forces with Hamilton for his film, Oppenheimer. Together, we sought to identify timepieces that perfectly aligned with his cinematic vision.


To achieve the highest level of period accuracy and expression of character, vintage timepieces were selected to adorn the wrists of three of the film's central characters: J. Robert Oppenheimer, Katherine "Kitty" Oppenheimer and Lieutenant General Leslie Groves, Jr. While the Hamilton archives are extensive, the pieces selected for Oppenheimer were all sourced from collectors.

Tapping our network of enthusiasts and collectors, we sourced six vintage references, leveraging period-specific timepieces from the 1930s and 1940s.


Our continued partnership with Christopher Nolan highlights the profound ways in which a timepiece can encapsulate an era and elevate a story.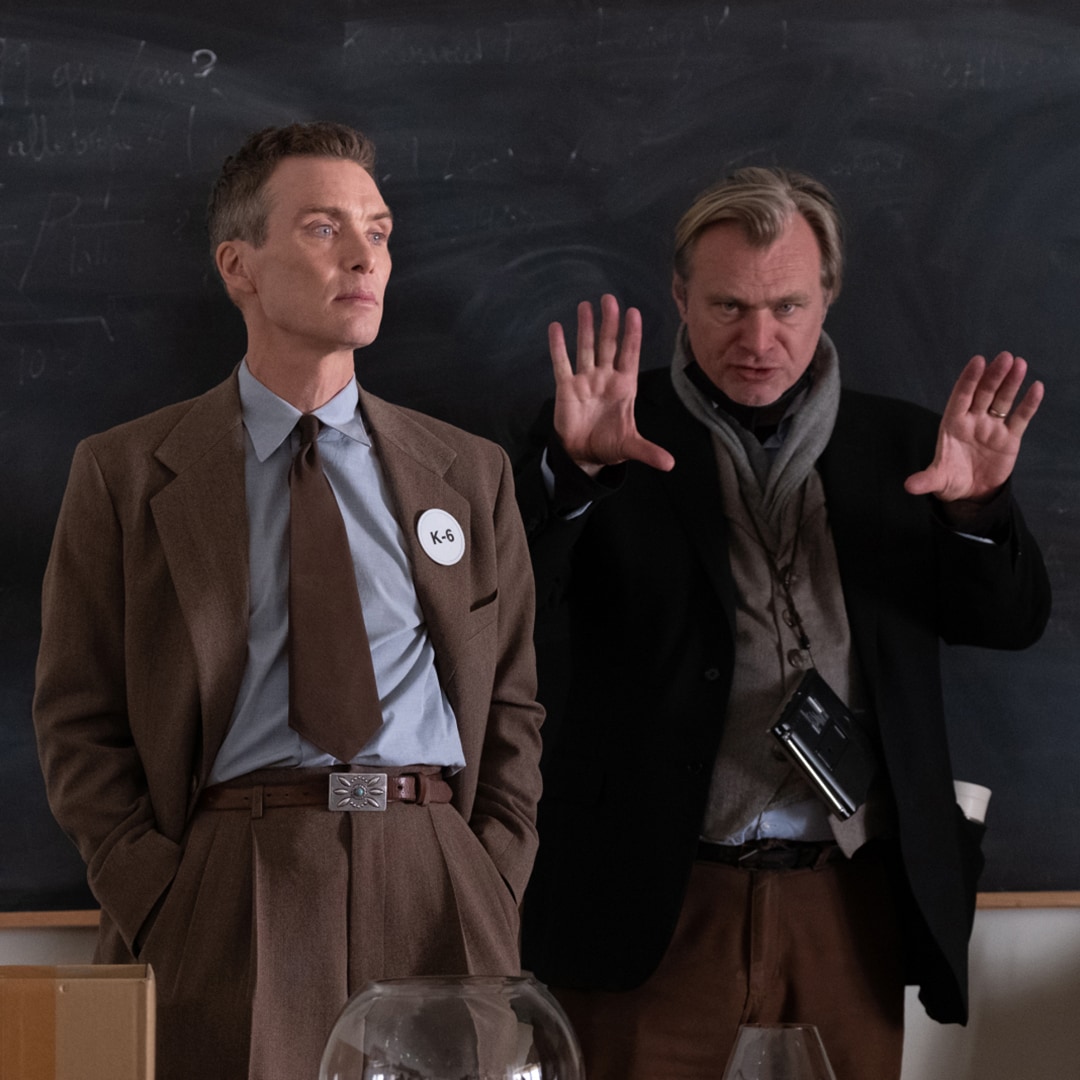 The stars behind the stars
Since 2006, the biennial Hamilton Behind the Camera Awards have celebrated the year's most outstanding behind-the-camera talent with a star-studded event in Hollywood.


Drawing from our rich legacy in cinema, we pay tribute to the unsung heroes of every successful film - the dedicated film set crews. These behind-the-scenes professionals are uniquely recognized, receiving awards from their A-list counterparts during a black-tie ceremony dedicated to the most extraordinary filmmakers of the year.
12th Hamilton Behind the Camera Awards in Hollywood

On November 5, 2022, we celebrated off-screen excellence at the Hamilton Behind the Camera Awards in Hollywood, hosted by actress and stand-up comedian, Fortune Feimster. This red carpet event highlighted the year's standout filmmakers, offering them the unique privilege of accepting awards from their esteemed A-list peers.

The 2022 Hamilton Behind the Camera Awards was a night to remember. Guillaume DeLouche received the prestigious Prop Master Award for his work on Thor: Love and Thunder, with Jaimie Alexander as the presenter. Screenwriter, Rebecca Lenkiewicz was honored for She Said, with Carey Mulligan presenting her award. Eddie Hamilton's exceptional editing in Top Gun: Maverick earned him an award, presented by Jay Ellis. These honorees, along with many others who received awards, epitomize the remarkable talent that breathes life into cinematic visions.


The Hamilton Behind the Camera Awards honors the unsung heroes behind the lens while showcasing our commitment to the craft of filmmaking.
Paying tribute to those who play a pivotal role in making the movie magic happen, the Hamilton Behind the Camera Awards embody our passion for cinematic storytelling.